Although we find ourselves far separated from those sunny summer months, it seems that we are still waiting for "Game of Thrones" long-awaited winter. This period of transition is one of tempered weather and colorful vistas, and I find myself being taken over by an obsession with fall. Between seasonal treats like pumpkin spiced Jell-O and Pecan Pie M&M's, I can't decide which holiday is more anticipated: Halloween or Thanksgiving.
Since it comes first, Halloween is first and foremost on my mind, and these top trending items from Pinterest's Pinfrights 2017 report will keep me more than occupied!
Costumes
There is no shortage of costume ideas on the Pinterest Halloween boards, and why buy when you can do it yourself? The boards are filled with all kinds of great ideas that cost very little and impress a lot.
1. Easy DIY Makeup
Giraffe makeup is up trending 1200% year-over-year on Pinterest. Why not go dressed as an animal. It sounds like an easy costume once you've painted on your face!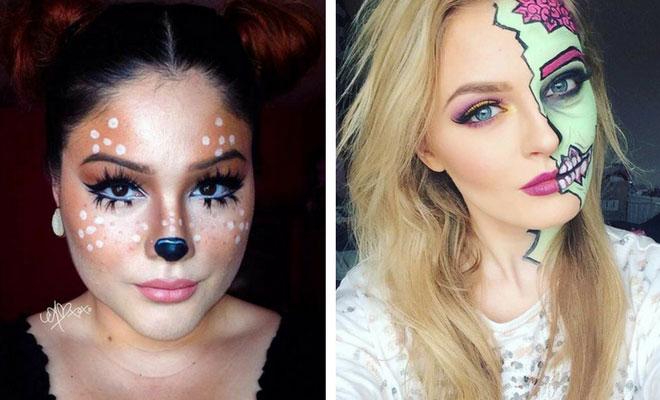 Not into giraffes? Pixelated faces and these other easy DIY Halloween makeup looks are just as easy to pull off.
2. Last-Minute Costume Ideas
Saves for Girl Scout costumes (and these other last-minute Halloween costumes) are up 450 percent from last year.
That's an awful lot of Girl Scouts and UP costumes running around on Halloween.
It's also pretty trendy to go as a hippy, which is another easy-to-throw-together costume.
3. Reviving Movie Characters
Remember those old movies, like the Sandlot? Now you can dress the whole family up with this group costume idea.
Couples costumes are always popular, especially when attending Halloween parties. This pin for the iconic Wayne's World characters has been saved more than 15,000 times.
Even newer movies are getting their time in the spotlight. This awesome Groot costume was made in only two days and is a perfect choice for the little sprouts.
Home Decorations
Pinterest is the number one place to look for home decor inspiration, any time of the year. There is certainly no shortage of holiday-themed decorations on the Pinterest Halloween boards. So get ready to throw a party, or just have a festive household, with these great ideas.
4. Photo Booth
Throwing a party is about more than just great food and drink (although, you need that too). This creepy photobooth idea is a great way to get your guests in the mood!
5. Glow in the Dark Pumpkins
Why settle for carving pumpkins when you can make them glow in the dark? Saves for these festive pumpkins are trending up 10 times this year.
6. Monster Legs
They may not be scary, but these table monster legs are fuzzy and festive. They're sure to be the talk of the party!
7. Creepy Hand
This step-by-step tutorial for a masking tape hand makes it easy to DIY a common Halloween decoration. Once you have the hand made, light it up with a glowstick to make it extra creepy.
8. Skull Planters
Sometimes, it's the small details that make all the difference, and having succulents growing out of skull eyes is one such small detail! These planters will add a creepy element to your household.
Food
Of course, no holiday party is complete without themed food! These picks from the Pinterest Halloween boards are trending for good reason - they're creepy and delicious!
9. Chicken Boo-dle Soup
This recipe for chicken noodle soup uses black food dye to make the noodles contain a creepy shade. Wholesome, delicious, and festive!
10. Pizza Skulls
This recipe for pizza skulls turns something we all love into a party treat! Snag a skull pan to make the shapes and customize away with your favorite toppings.
11. Zombie Nachos
These dessert nachos make the perfect holiday treat. Make them bloody by drizzling them with cherry syrup, or make them extra creepy with gummy eyeballs, worms, or brains.
12. Toxic Waste Mac & Cheese
This one even freaks me out, and I have a high tolerance for this kind of stuff! This toxic treat is disgustingly delicious and trending up on the Pinterest boards.
These are the best of the best on the Pinfrights boards, but we're sure you have some holiday favorites. What are your favorite DIY costumes, decorations, and food ideas?