Halloween is hauntingly close. Pumpkins are in place on porches, and pop-up costume shops are, well, popping up all around. There's still plenty of autumn before your neighborhood becomes ready for the winter, though. Instead of putting out decoration that's just for Halloween, start stretching your home decor farther into the season by turning tree stumps into pumpkins. That's right, tree stump pumpkins are the perfect rustic autumn decor. Throwing a Halloween party this year? Consider these Halloween projects as the perfect way to line your walkway in tasteful, timeless fall décor.
The best part about tree stump pumpkins, too, is that it's a great family activity for fall crafts. Send your tree-cutter out to smooth out the wood slice pumpkins, and bring the kids or the grandkids into the mix to brush on the orange paint for a perfect pumpkin tree stump that you'll always cherish. Stencil on a greeting to make the sweetest pumpkin tree stump welcome sign, or simply leave them plain. Wood craft projects are great for kids because the size of the project is much larger than a sheet of a paper, and they create something tactile in the process.
Tree Stump Pumpkins
Her Tool Belt brings tree stump pumpkins to a whole new level of realism with these abstract wooden pumpkins. The rustic pumpkin look is a classic version of tree stump pumpkins, and make for super cute doorstops inside, too.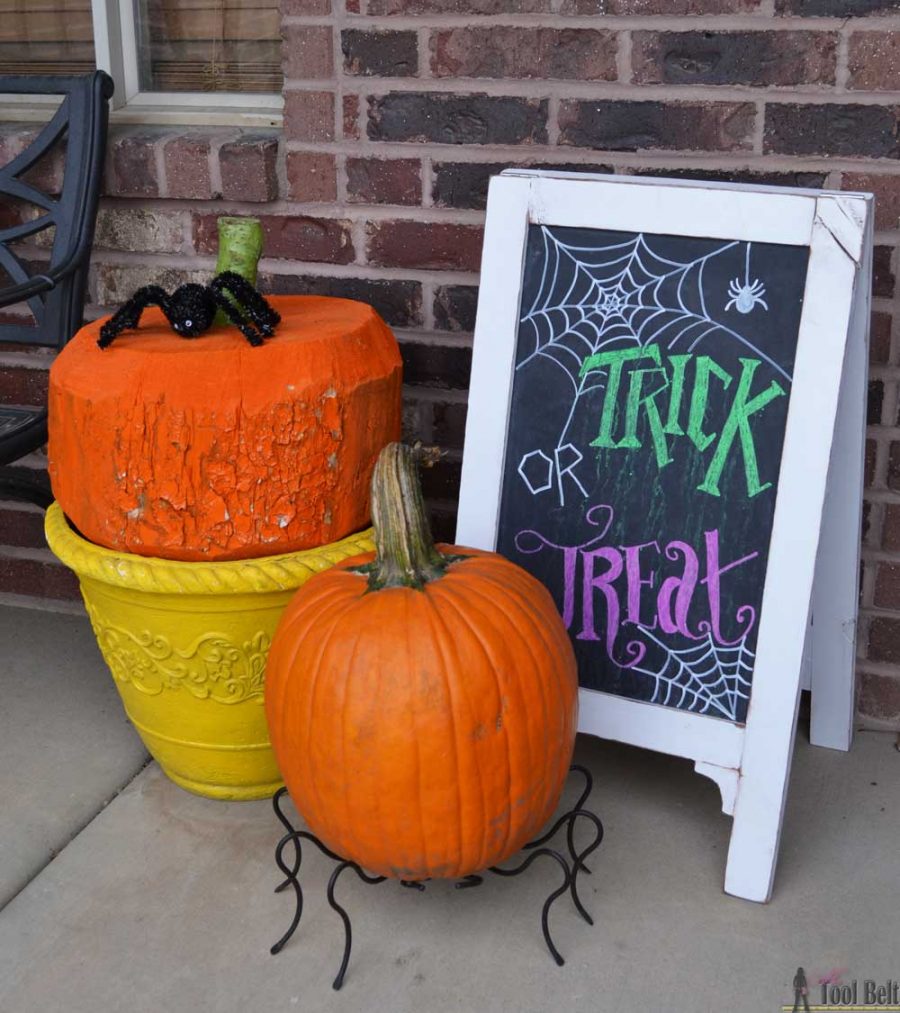 Tree branches were used to create the stems and y'all, log pumpkins are DIY projects that benefit from treefall and other unhappy yard chores. Who said a Halloween pumpkin had to be a pumpkin?
Jack-O-Stumps
There's nothing wrong with getting spooky a few weeks before All Hallow's Eve. If you can get your gnarled, witch-like hands on some stumps, paint them up as the jack-o-lanterns you wish you could carve. The possibilities are endless.
Want to get incredibly creative? Try shaping your stump as something other than a pumpkin. Making a tree stump pumpkin skull? Carve that bad boy into an actual skull shape.
We don't suggest doing this if you don't know your way around wood, but, if you do, the world is your oyster.
You can also consider taking smaller stumps to your local hardware store and they might slice and dice the stumps for you so you can begin painting!
The Simple Orange Stump
Looking for something that's just fun? This model is clearly a stump that's been painted like a pumpkin.
This rendition of the tree stump pumpkin is great, as it is simply a pumpkin from October 1 through October 24. Then, you can re-paint it as a jack-o-stump for the week leading up to Halloween. Ideal? We say yes.