You've got the flag-decorated sheet cake in the fridge. The burgers were made the night before, and the hot dogs ready to grill. Your tablescape is planned and you have mini American flags to hand out to all your guests. What's left? A red white and blue drink to toast July 4th with!
A backyard BBQ is a must on the Fourth of July, and while beer may seem like the obvious choice for a cookout, a pretty and patriotic cocktail would take your party to the next level. It could be as easy as pitchers of red and blue sports drinks set out on display, or you get really creative and craft cocktails that taste great and make for a pretty picture. While you could serve these in a cocktail glass, we prefer a good ol' mason jar. Even better if you have one with a handle!
Our Favorite Red, White, and Blue Drinks for the 4th!
1. Red White & Blue Fruit Striped Freeze
Layered drinks are the ultimate choice for frozen fourth cocktails! When layering, make the red, white layer, and blue layers as even as possible. A Mom's Impression opts for kid-friendly freezes, but you could get creative if you wanted a spiked version.
Get the recipe here.
2. Sauza® Watermelon Margarita
If you're planning on making a big batch cocktail, this is the one to serve. It's easy to make and the bright red color- thanks to fresh watermelon juice - is perfect for a 4th of July party.
While this isn't a full red, white, and blue cocktail, this means you don't have to babysit your guests as they pour themselves a second glass!
1 cup Sauza® Tequila

½ cup Lime juice

½ cup Triple sec

1 cup Watermelon juice

Drop of Honey
Add ingredients to an ice cube-filled pitcher and stir. Pour into salt or sugar-rimmed glasses, and garnish with a watermelon wedge.
3. Sparkling Red, White, and Blue Sangria
Star-shaped fruit cutouts are the perfect garnish for this festive sangria. White wine and fruit are the cure for the dog days, no matter what the weather is.
If you want to add something tart to this 4th of July cocktail, unsweetened cranberry juice is always a good choice. Get the recipe here.
4. Citrus-Spangled Spritzer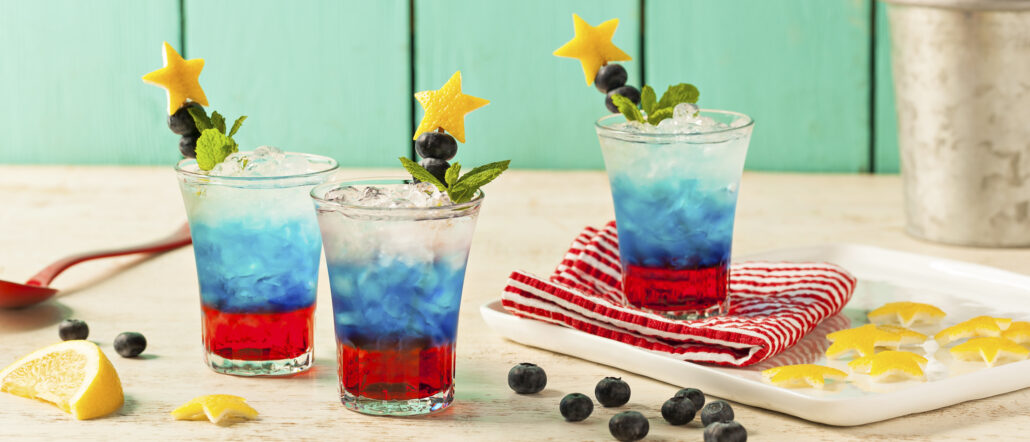 The layered look of this vodka-based spritzer is perfect for a backyard BBQ on the fourth.
Pro tip: When following this alcoholic drink recipe, pour each element over the back of a spoon so they don't mix.
1 part Pinnacle Citrus Vodka

1 part DeKuyper Blue Curacao Liqueur

2 parts Lemon Soda

1 part Grenadine

Lemon for garnish

Blueberries for garnish

Mint Sprig for garnish
Lightly mix the vodka and lemon soda in a cocktail shaker with ice and set aside. In a tall glass, add the grenadine slowly to the bottom.
Fill the glass with crushed ice. Strain the vodka soda mixture over the back of a bar spoon, followed by the blue curacao. Garnish this patriotic drink with fresh mint, lemon rind star and berries (optional).
5. Red, White, and Blue Ice Champagne Floats
Just because you are an adult doesn't mean you can't enjoy the fun of a frozen float. Even though this blue drink doesn't have the reds or the whites, it was too delicious to include. America won't mind if you celebrate with just blue, right?
A Kitchen is My Playground skips the soda and opts for champagne instead.
Get the recipe here.
6. Skinnygirl® Berry Patriotic
This low-calorie cocktail is perfect for sticking to your meal plan during a party. Get the recipe here.
1

part Skinnygirl Bare Naked Vodka

1 part DeKuyper Blueberry Schnapps

Splash of club Soda

5 muddled strawberries

20 blueberries
Add muddled strawberries to a glass and top with ice. Shake Skinnygirl® Bare Naked Vodka and DeKuyper® Blueberry Schnapps in a shaker with ice.
Strain into the glass and top with club soda and blueberries for a fruity delight.
7. Patriotic Pina Colada
A classic piña colada gets a patriotic makeover thanks to blue curaçao and frozen strawberries.
These festive Independence Day cocktails always get the party started. And honestly, what's better than an ice-filled glass on a hot summer day? Get the recipe here.
8. Feeling Blue
A bright blue cocktail is perfect for sipping poolside on the fourth.
1-1/2 oz of Van Gogh Blue Vodka

1/2 oz Orange Liqueur

1/2 oz Blue Curacao

1 oz Orange Juice

2 Splashes of Sour Mix
Build all ingredients in a rocks glass with ice. Garnish with a wedge of orange. If you want to add a little red to the glass, fresh strawberries make a nice addition, too.
9. Patriotic Frozen Margaritas
Everyone's American on the Fourth, especially with this drink in your hand! These are a patriotic twist on the classic margarita, and they'll keep you cool on the hottest of days.
Plus, they have sparkly, red white and blue decor! Get the recipe here.
10. Boozy Red, White, & Blue Slushies
These boozy slushies rely on your blender and a healthy dose of electrolytes in the form of power drinks for the sweet red, white, and blue colors!
Don't be afraid to hydrate your body, and add some coconut rum to the 4th of July drink all at the same time. Get the recipe here.
Related Videos
This post was originally published on June 26, 2020.