Here's a scenario you're probably familiar with: Pumpkin spice season is coming. You throw your family into the bomb shelter and only survive on canned rations until spring. We associate pumpkin and pumpkin spice with fall, and we often look to the flavors and aromas such as cardamom and allspice during the winter months. One aroma that's about as winter as it can possibly get is often overlooked: pine.
Pine is everywhere during the winter months. If you hadn't noticed, many of the other types of trees start shedding their leaves long before winter even arrives. A great way to tap into your inner-winter-self is to make pine-flavored cocktails (and cocktail ingredients). Here are some great ideas to get your coniferous juices flowing.
1. Colorado Pine Soda
Let's start with a mocktail. OK, it isn't really a mocktail. Rather, it's just a pine-flavored soda that you can make yourself. If you like pine, you'll pine-sitively love this.
Get the recipe here.
2. Mountain Pine Whiskey Cooler
This isn't your standard dive bar $4 whiskey ginger. Instead, this recipe calls for rye whiskey, ginger beer, and a bit of pine syrup. Oh, and they suggest freezing some pine sprigs into ice cubes. Brilliant, we say, brilliant!
Get the recipe here.
3. Pine-Infused Vodka Sour
Citrus and pine are a classic cocktail combination (a refreshing gin and tonic during the summer comes to mind). This cocktail takes lemon, lime, pine, ginger ale, and vodka, mixes them together, and sticks a, well, stick in it and somehow it works.
Get the recipe here.
4. The Jockey
When they're not riding horses, they're making killer cocktails. Bourbon, muddled lime, muddled mint, pine syrup, and citrus bitters. Who knew jockeys had such good cocktail taste?
Get the recipe here.
5. Pine-Infused Christmas Cocktail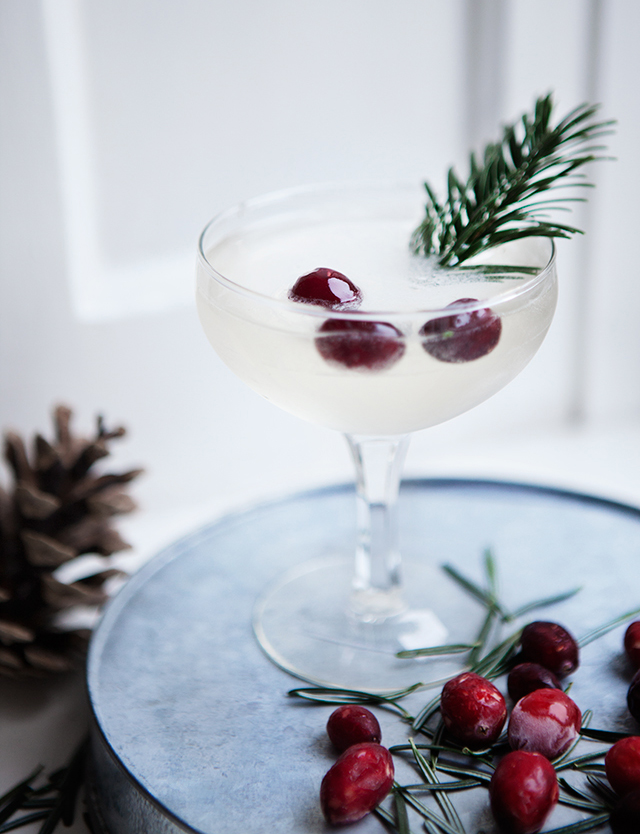 For our champagne-loving readers, listen up: This cocktail is made with champagne, gin, spruce syrup, and frozen cranberries. We hope you listened. That's all.
Get the recipe here.
6. Mistletoe & Pine
Egg whites can take a cocktail and make it something entirely different. We encourage you to experience this for yourself by making this recipe; it includes an egg white, cinnamon syrup, and pine-infused gin.
Get the recipe here.
7. Pine Syrup
We figured you may want to make your own pine-infused cocktails. There's no easier way to do this than to make your own pine syrup. We'll be as transparent as pine syrup here: We chose this one because the handmade label looked cool. Busted.
Get the recipe here.
8. Christmas Pine Negroni
Do you love negronis? Do you (think that you may) love pine? In this recipe, a time-tested classic gets a little boost from a contemporary, trendy ingredient. The result? Something you've never tasted before but will want to taste again quite soon.
Get the recipe here.
9. The Fine Feller
Fine feller? More like pine feller! Anyone? Moving on: This cocktail includes a pine-honey syrup, apple cider, tea, and rye whiskey. We haven't tried it yet, but we're willing to bet that it's a pretty fine drink.
Get the recipe here.
10. Cranberry Pine Mocktail
It doesn't have to be a mocktail. It's simple, just change the "m" to a "c." Oh, and you may want to spike it with some gin, too. Regardless of whether it makes you feel good, it's still going to taste good.
Get the recipe here.
11. The Woodland Warmer
This cocktail will not only warm a woodland woodsman (once you add the optional gin to it, that is), but it may even put some hair on the chest of a woodland woodswoman as well. Try at your own risk.
Get the recipe here.
12. Muddled Pine Cocktail
Angostura bitters just get us. Made with cranberry, pine, lemon-lime soda, and either vodka or gin as well as bitters, this cocktail is everything you never knew you wanted in one short glass.
Get the recipe here.