The age old classic known as the casserole has been saving dinner and lunch for the week in a baking dish, time after time. While to some, the idea of a casserole may conjure images of creamy cheese layered with chicken that's meant for a decadent occasion, the casserole can save you weeknight after weeknight if you know how to add some well-selected vegetables to the mix.
Follow along below to keep dinner fresh and funky for the family with these delicious chicken casserole recipes.
1. King Ranch Chicken Casserole
This recipe is a favorite that never gets old, and it's a tradition in Texas. The best part is that it tastes even better the next day.
Find the recipe here.
2. Chicken Cordon Bleu
Delicate chicken, smoked ham, cheese and a bread crumb crust marry together perfectly in a 13 x 9 baking dish. How could you go wrong?
Find the recipe here.
3. Chicken and Wild Rice
Tasty wild rice brings this chicken casserole together in a snap. Swap in brown rice for wild rice for a whole grain take.
Find the recipe here.
4. Chicken Spaghetti
I swear to you, my aunt makes the best version of this, but this recipe is a close match.
Find the recipe here.
5. Chicken Pot Pie Casserole
You no longer need to buy those Banquet pot pies, just use real ingredients and make it your own!
Find the recipe here.
6. Chicken Enchilada Casserole
Tex-Mex for the win! This chicken enchilada casserole was made for second helpings.
Find the recipe here.
7. Loaded Potato and Buffalo Chicken Casserole
You're gonna need a nap after this one, that's for sure.
Find the recipe here.
8. Cheesy Chicken Broccoli and Rice Casserole
Replace the rice with chicken and you have officially converted a classic.
Find the recipe here.
9. Chicken Parmesan Casserole
Switch up from the traditional form and make a casserole that will last a few days.
Find the recipe here.
10. Chicken Kale Casserole with Cheese Sauce and Parmesan Breadcrumbs
Put some healthy greens in your diet with this nutrient-rich casserole that even puts a decadent spin on breadcrumbs.
Find the recipe here.
11. Brushcetta Chicken Bake
Another Italian inspired casserole that's sure to please, this will be a requested classic.
Find the recipe here.
12. Pesto Chicken Casserole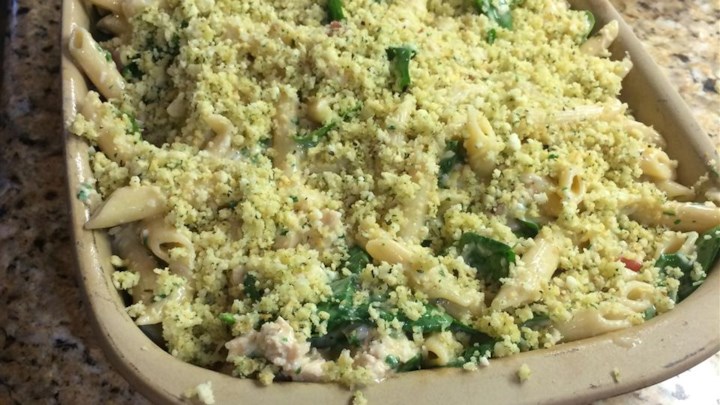 Pesto brings chicken to a new level in this dish. I say throw in some sun-dried tomatoes and have a feast.
Find the recipe here.
13. Chicken Tator Tot Casserole
Imagine the joy on your kids face when you tell them this casserole has tater tots in it!
Find the recipe here.
14. Yum Yum Chicken
When Thanksgiving rolls around, get a little more use out of that stuffing/dressing mix. But who says it has to be Thanksgiving, anyways?
Find the recipe here.
15. Spinach Artichoke Chicken Casserole
One of my favorite dips. Add some chicken and this casserole will take you to ecstasy.
Find the recipe here.
16. Chicken, Mushroom, and Sage Casserole
This dish brings the flavors together beautifully, and it tastes delicious. Easy for a weeknight dinner, yet still decadent enough for a special dinner potluck classic.
Find the recipe here.
17. Swiss Chicken Crepes
These Swiss chicken crepes are layered like lasagna, but the taste is much different and much more decadent.
Find the recipe here.
18. Baked Chicken with Rice and Black Beans
The yellow saffron rice really adds a nice touch to this casserole with creamy black beans and chicken.
Find the recipe here.
19. Chicken and Yellow Cheddar Squash Casserole
Hearty and filling, this is the perfect Sunday dinner just waiting to be made.
Find the recipe here.
20. Chicken, Sausage and Bean Cassoulet
A simple Cajun casserole that packs all the flavor of the region.
Find the recipe here.