Have you heard rumors of Butterfinger popcorn hitting a shelf near you? Just thinking about a bite-sized version of that crunchy, flakey, peanut-buttery center covered in chocolate coating makes me drool a little. The food blogger Impulse Buy recently posted picture of a bag of this "candy meets popcorn" on the shelves at a Winco in Boise, Idaho (spotted by contributor Carla). So what's the deal; is this candy-meets-popcorn available in your area?
As of now, it's too early to tell. Except for a few bloggers who have picked up coverage of Impulsive Buy's Instagram post, the internet is eerily quiet about this candy-coated treat.
There are no official posts from Butterfinger or Cookie Pop (the company that PopSugar believes might be behind this new and exciting flavor). It seems likely that these bags have been distributed to select stores for market testing (to see if the flavor is popular enough to sell nationwide).
Overall, flavored popcorn has become a popular shelf item in the last few years, and it goes way beyond Smartfood's white cheddar. From pickled flavored popcorn to spicy jalapeño ranch, new popcorn flavors have been popular in 2016 and 2017. It's not only the big companies that are benefiting, either-small, craft companies like Boom Chicka Pop have grown because of the widespread popularity of both "normal" flavors and those that are a little more experimental (like their beer-flavored popcorn that hit shelves in 2016).
Some surmise that this is the "third Golden Age of popcorn" (the first being with the rise of sporting events and movies in the early 1900s, and the second after widespread popularity of home microwaves in the 1980s). I always think of popcorn as part of the movie theater experience, but new technology is keeping popcorn fresh in the bag like it never could before. Even though movie theater sales are declining, pop-it-yourself and bagged popcorn sales are booming.
What's the cause? It doesn't hurt that health nuts discovered popcorn is healthy for you! Corn is a gluten-free, whole grain product that's high in fiber and low in fat and calories (well, until you put all those tasty toppings on it). New heirloom varieties of corn are being discovered and chefs are using popcorn in ways they never have before. Since the popcorn itself has such a neutral flavor, it's easy to spice it up and make it your own.
The PBS show "Mind of a Chef" featured San Francisco chef Daniel Patterson's popcorn grits. and flavors like togarashi and honey spiced popcorn and pecan-praline candied bacon are prominently featured in the appetizer section of restaurant menus. Chefs find that popcorn makes a great bar snack, and its easy for customers to buy popcorn appetizers since it's such familiar item.
Make It at Home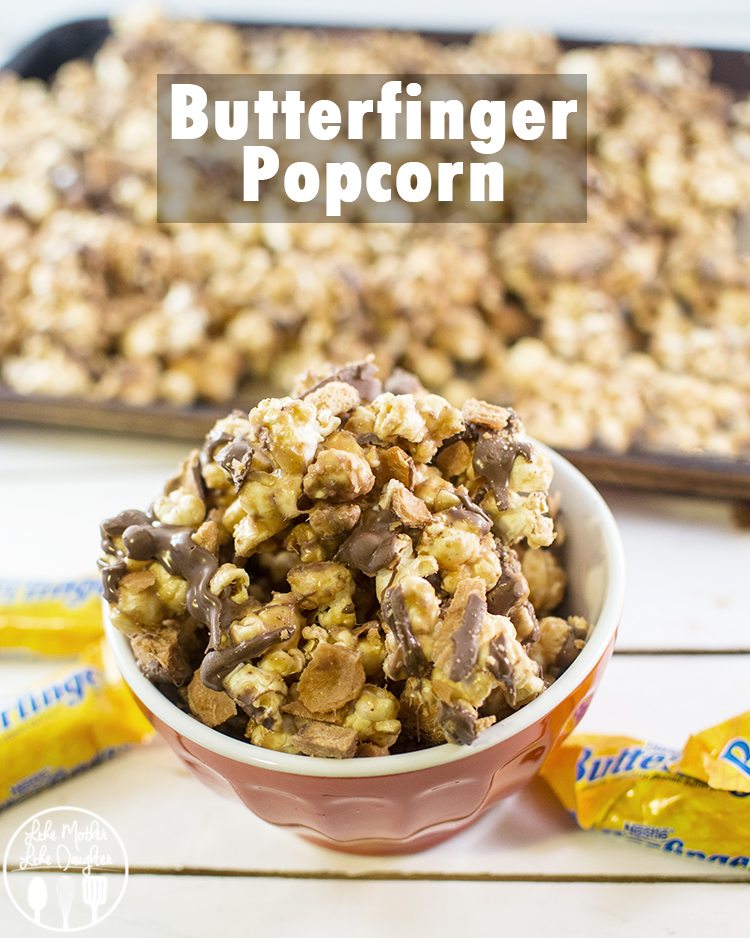 All in all, the future is bright for popcorn. Take the Cookie Pop craze-cookies and cream popcorn was not only created, but it has become popular! Talk about the perfect snack for when you can't decide if you want sweet or savory. Heck, there's even a popcorn store in Austin, Texas that makes loaded baked potato flavor (now we're talking!), and a catering company that pops the perfect popcorn for every event.
We may remain in the dark if Butterfinger popcorn will become a reality nationwide, but there is an upside. Flavored popcorn is incredibly easy to make at home. Try this recipe, or try any one of our 11 favorite recipes for dressing popcorn.