What could be better during a sweltering hot summer day than a popsicle? A boozed-filled popsicle! When you're in need of an afternoon pick me up, an ice-cold alcoholic popsicles is your ticket to summer bliss. Let the kids have their popsicles, while you have yours. Poptails to beercicles, there is an adult treat waiting for each and every flavor in the booze isle. Get the trays ready, because it's about to popsicle madness.
All you need to make your own tasty recipes are ice pop molds and popsicle sticks. We swear by this mold that makes 10 popsicles and comes with 24 popsicle sticks to get you started. The best part about this mold over other popsicle molds is that it's clear, perfect for double- and triple-layer recipes so you can see your progress as you pour. For only $14.40, this mold makes popsicle-making so easy.
So now that you have what you need, onto the fun recipe! Keeping you cool during the dog days of summer, here are 15 refreshing boozy popsicle recipes.
1. Tropical Tequila Sunrise
One lick of this Tropical Tequila Sunrise popsicle, and you'll be in a summer paradise.
Perfect for summer parties by the pool, these super refreshing boozy popsicles are bright enough to make you smile.
2. Popsicle Mimosa
Summer brunch just got a whole lot better with the Popsicle Mimosa. Champagne is grand, but ice pops filled with champagne are even better.
3. Cucumber Gin & Tonic Popsicles
If you think a gin and tonic is refreshing, wait 'til you get a lick of this Cucumber Gin and Tonic Popsicle.
Lazy summer days should always start with these ice pops with an alcohol content high enough to get you tipsy, but low enough to have an extra sweet popsicle here or there.
4. Blueberry Mojito Popsicles
Sit back and relax on a lazy hot afternoon with a refreshing Blueberry Mojito Popsicle.
5. Costa Rican Watermelon Mojito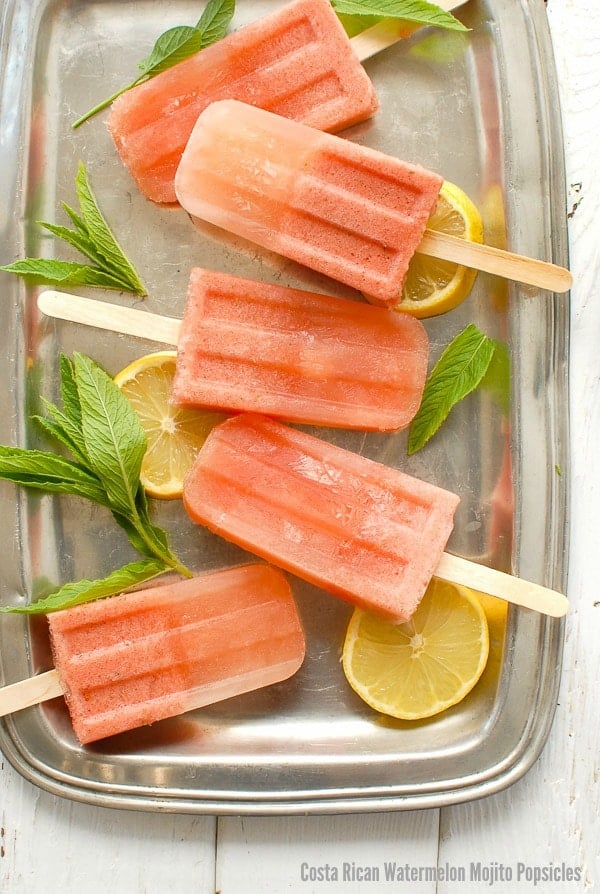 In the morning, blend sweet watermelon, refreshing mint, and a dash of rum, then pour it into a popsicle mold and let it rest in the freezer.
Come afternoon, you're Costa Rican Watermelon Mojito Popsicles will be ready! Reminiscent of ice cream popsicles, this alcoholic ice pop is so tasty.
6. Peach Bourbon Popsicles
This is the popsicle made for the front porch. Sweet peaches and smooth bourbon, the afternoon can't get any better.
Get the recipe here.
7. Boozy Vegan Cashew Horchata Popsicles
Looking for a popsicle on the healthier side of the booze spectrum? Try this Boozy Vegan Cashew Horchata Popsicle.
It's dairy-free, packed with protein, and did you know tequila can help you lose weight?
8. Coconut Cream Popsicles with Vanilla Bean and Malibu Rum
Need a light, refreshing dessert this summer?
Try these Coconut Cream Popsicles with Vanilla Bean and Malibu Rum. Yum!
9. Prosecco Raspberry Popsicles
It's going to be a prosecco themed summer, so get your fix in with these delicious Prosecco Raspberry Popsicles.
10. Rosé Sangria Popsicles
Looking for a fun way to use up that rosé forty? Try Rosé Sangria Popsicles. It's pure summer bliss.
Make them your own by tossing a frozen cherry or two into each popsicle.
11. Red Wine Popsicles
Lemon lime soda, homemade lime simple syrup, and your favorite red wine are all you need to make these Red Wine Popsicles.
12. Spicy Jalapeno Mango Margarita Popsicles
Four words, Jalapeño Mango Margarita Popsicles. These are totally Pinterest and Instagram-worthy.
13. Grapefruit Shandy Beersicles
What could be more refreshing on a hot summer day than a ice cold shandy? A Grapefruit Shandy Beersicle!
14. Smoked Tomato Michelada Popsicle
You may want some chips to go with this Smoked Tomato Michelada Popsicle.
The smoky tomatoes mixed with spicy hot sauce makes for one loco popsicle you've got to try.
15. Blood Mary Popsicles
Not into the sweet popsicles? We've got your covered with these savory Bloody Mary Popsicles. Plus, they'll go great with brunch.
It's going to be a good summer after all.