Tiny kitchens can inspire a lot of misery. Stubbed toes, spilled sauces, and over-stuffed cabinets are just a few examples of the many ailments those with smaller-sized spaces to cook in suffer from, and at times it seems like there's no way around them. That's not always true, though.
We've found nine simple ways to add a little more room to your tiniest of, well, rooms. If you have an open wall, something that can hold a magnet, or a few extra bucks, you'll find it's not too hard to make your tiny kitchen seem a little less tiny and a little more sizable (and Pinterest-level chic). Consider this list a brief glimpse into the world of space-saving hacks for your home.
1. Use Pegboard On Open Wall Space
A DIY kitchen pegboard is all that stands between you and a cure for your lack of space.
If your cabinets are crammed with carafes and cups and you're struggling to find a place to put the spatula or your pans, look to the walls as a space to hang things.
2. Hang Your Knives, Too
Investing in a magnet strip is a simple way to get the most out of your space while also making your kitchen look like a place where cooking is taken seriously.
Anything with metal can stick right to your backsplash, allowing ease of access to commonly used items like knives.
3. Use Your Fridge as a Spice Rack
We know that Tommy's high marks on his history test are important, but we'd like you consider using that esteemed fridge space in a more practical way (sorry, Tommy).
Magnetic spice jars prevent cabinet clutter and also make cooking with a little flavor easier than ever.
4. Invest in Pullout Cabinets
Tiny kitchens often have small, awkward spaces that seem like unusable wastes of space.
By installing a pullout cabinet in these spaces, though, you give yourself some sneaky vertical storage that you'd otherwise be missing out on.
5. Install Two-Tiered Silverware Storage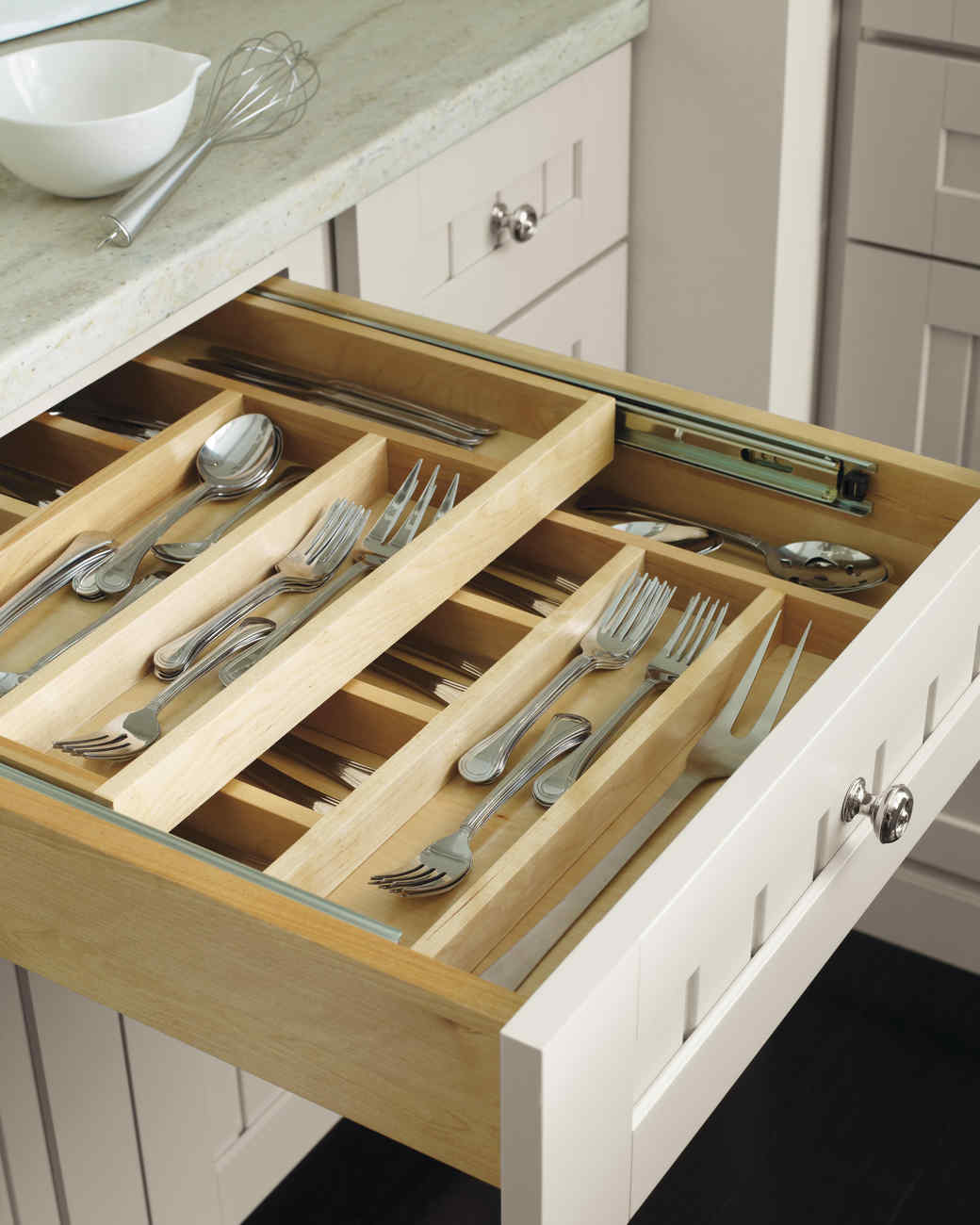 This one seems so simple that we can't believe it wasn't our idea.
If your drawers are deep enough to allow a two-tiered silverware system, you can lessen the total number of drawers you're filling with forks, knives, and spoons.
6. Factor in Some Fold Down Tables
While the kitchen table featured above is a combination cabinet and table, not all fold down tables need to come from a cabinet.
Having a simple, hinged table that you can secure to your wall when it isn't in use will give you more room without completely sacrificing a surface to dine on.
7. Fasten Mason Jar Lids Under Your Cabinets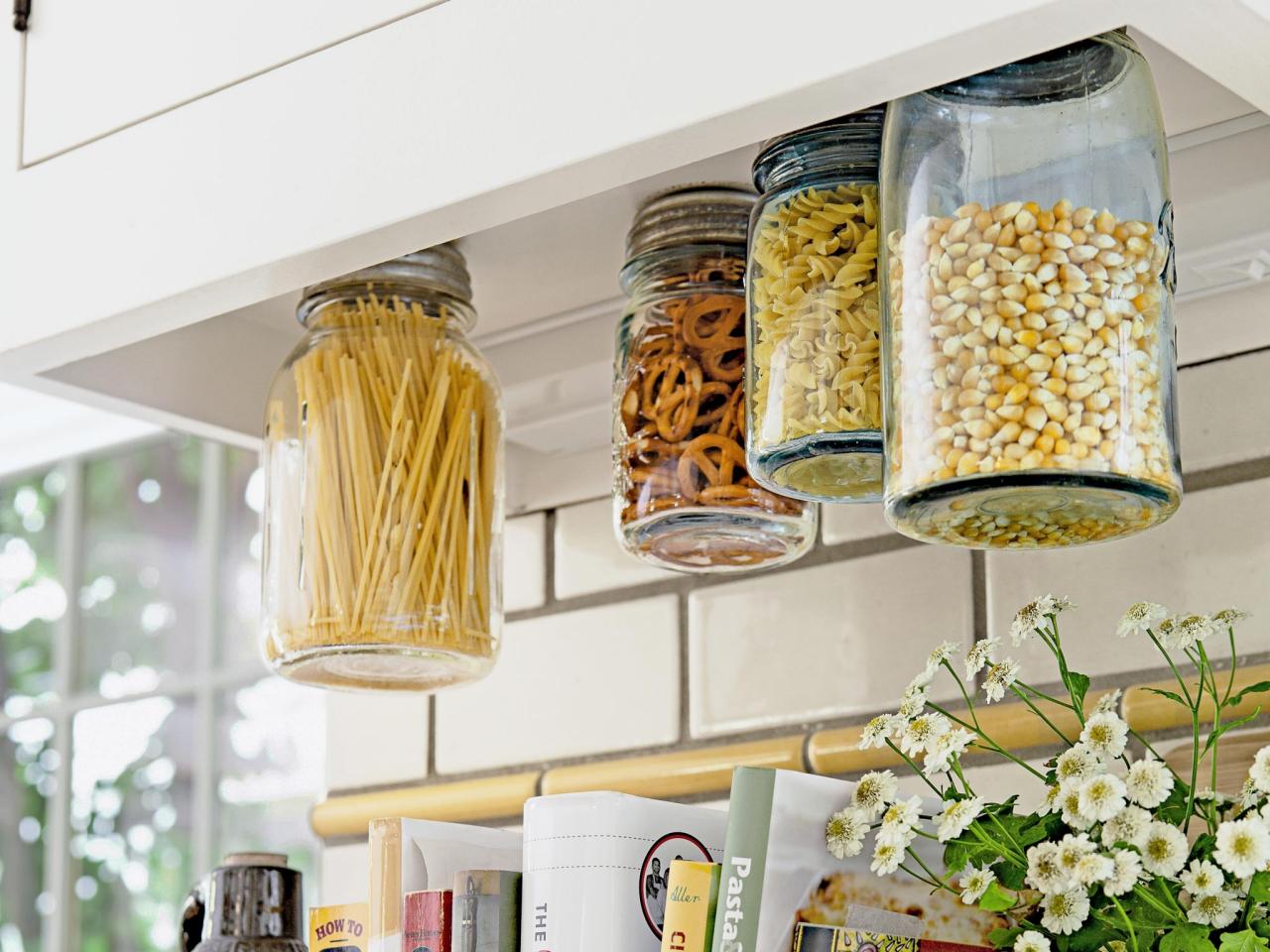 You can't get much more farmhouse-fresh than this idea. Screwing mason jar lids on to the bottoms of your cabinets will allow you to make use of a space that's virtually untouched in most kitchens.
Store things you use a lot of in mason jars so that you can readily unscrew them whenever needed.
8. Don't Forget to Look Under the Sink for Space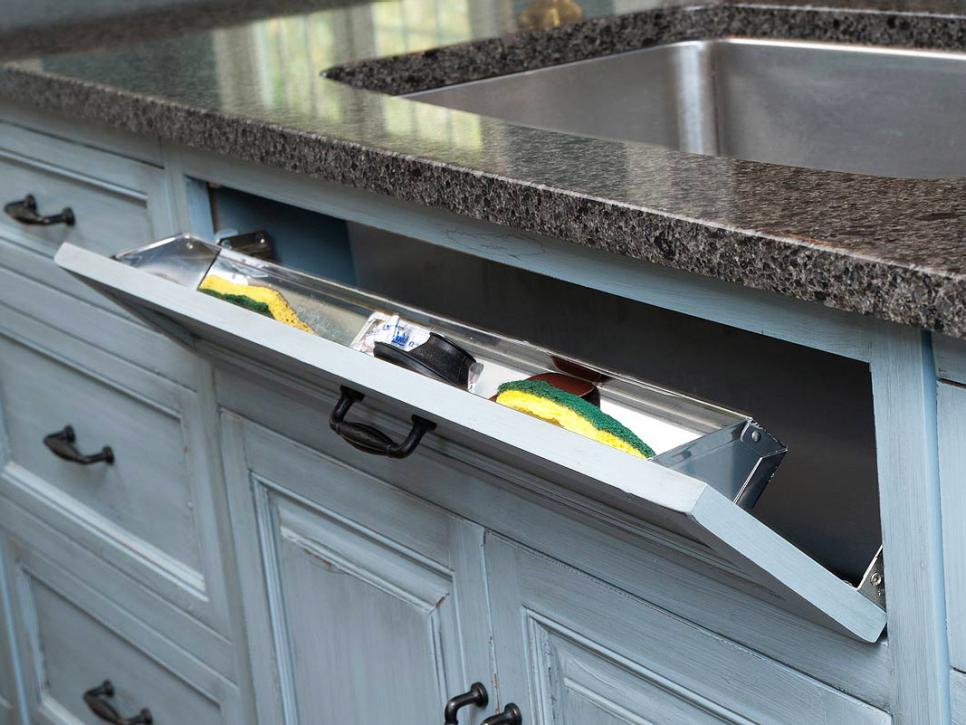 Fake drawers are often built directly under sinks. Convert your fake drawer into a usable unit in order to store sponges, soaps, and other items you'd normally store next to the spout.
9. Store Your Pots, Pans, and Lids Vertically
Companies like Glideware create intuitive storage systems that are perfect for tiny kitchens.
The unit featured above slides in and out, preventing clutter and using vertical space more effectively than would be done by stacking your pots and pans.