Who doesn't love a holiday centered around eating? Turkey, potatoes, stuffing, more potatoes: It's the one day of the year we can load up on carbs and rich foods without feeling guilty. And while the turkey may be the main event, it really is all about the sides.
We're talking casseroles, roasted veggies, and potatoes any which way you can have them. While the classic staples can be hard to pass up, throw a curve ball into the mix and give your sides a twist. These show-stopping sides will impress your family and cause speculation you are hiding a master chef somewhere in the kitchen.
1. Whipped Bourbon Bacon Sweet Potatoes
I know, Thanksgiving is the one excuse to pair sweet potatoes with marshmallows. But come one, bourbon whipped into sweet potatoes and topped with bacon?
Looks like you may be cashing in the mashed potatoes for this recipe, too.
2. Brussel Sprouts with Glazed Pancetta and Pecans
This is the recipe that will make you realize just how much you love Brussel sprouts.
3. Smashed Potatoes
Forget mashing, try smashing! Crispy on the outside and soft on the inside, you can't have Thanksgiving without them. After all, it is a carb fest holiday!
Get the recipe here.
4. Chorizo Cornbread Stuffing
For those of you who are feeling adventurous, you have got to try this chorizo cornbread stuffing. It's the South meets Spain in one unforgettable Thanksgiving twist.
5. Kale and Collard Green Gratin
If you are searching for a unique take on collards, then look no further my friends. Mixed with kale and topped with prosciutto, you don't want to miss this collards recipe.
6. Bourbon Roasted Pear Salad with Gorgonzola and Candied Pecans
This is not your ordinary salad. Bourbon roasted pears give this side that extra little something special.
You and your family will be glad you chose this salad for the Thanksgiving feast.
7. Spicy Roasted Squash with Feta and Herbs
Squash can be more than soups and pies. Celebrate the bounty of squash season this Thanksgiving by topping it with feta and herbs.
Get the recipe here.
8. Roasted Balsamic Beet, Goat Cheese, and Pistachio Salad
Sometimes, you just want to bring something new to the table. Start a new Thanksgiving tradition with this roasted balsamic beet salad.
One bite and you'll see that roasted beets and goat cheese where made for each other.
9. Cabernet Cranberry and Blueberry Sauce
Who said cranberry sauce had to come from a can? Dazzle your guests by whipping up this cranberry sauce recipe.
Don't worry, we won't tell them just how easy it was.
10. Roasted Carrots with Farro, Chickpeas, and Herbed Creme Fraiche
You can't have Thanksgiving without a roasted root vegetable.
Rather than roasting the usual medley, show off your culinary skills and wow your family with these carrots topped with creme fraiche.
11. Potato Leek Frittata with Goat Cheese
The beauty of the frittata is it can be whipped up in a snap. Traditionally, they were basically made with whatever you had laying around the kitchen.
Put a little thought into your Thanksgiving frittata and try this scrumptious recipe.
12. Southern Slow Cooked Collards
Because you can't beat a Southern classic like slow cooked collards.
Get he recipe here.
13. Harvest Sausage Stuffing with Pecans and Cranberry
Stop! Drop that boxed stuffing and run toward this recipe. Don't let all your hard work for the perfect Thanksgiving fall short.
Bacon grease-cooked sausage, crunchy pecans, and sweet cranberries - you can thank me later.
14. Butternut Squash Gruyere and White Cheddar Mac and Cheese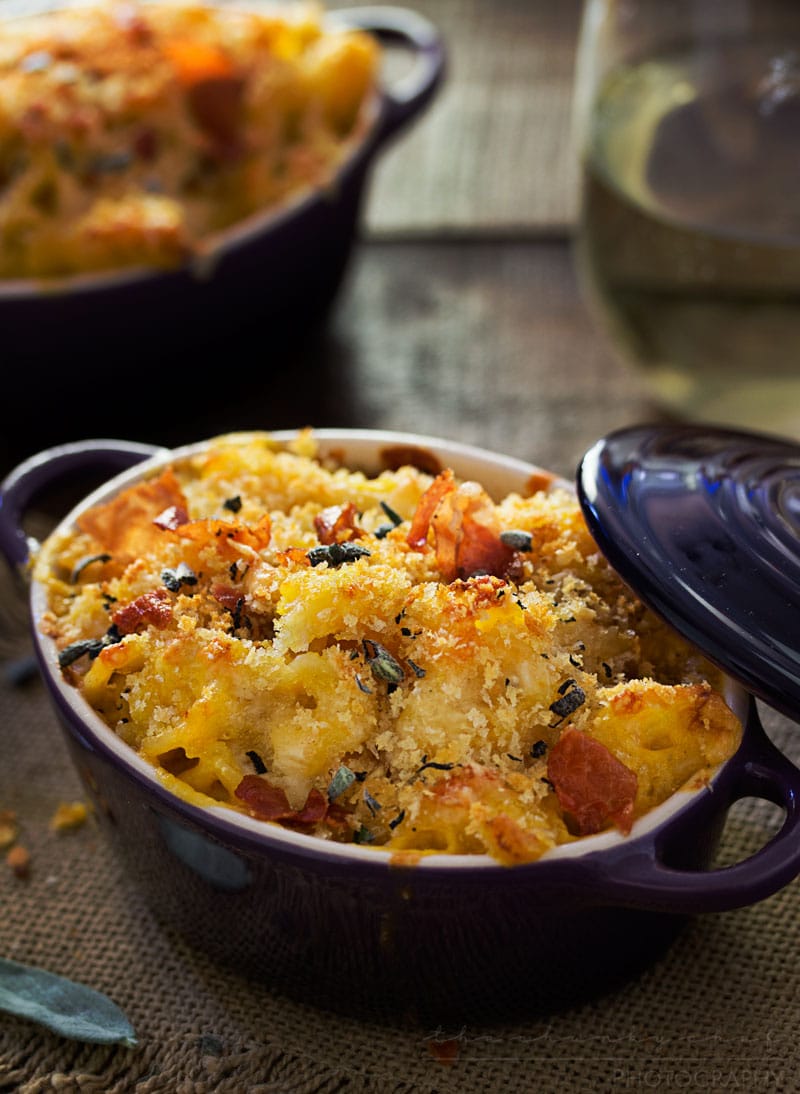 Gryuere? White cheddar? Butternut squash? Yes, please!
Impress your guests with this adult version on a classic childhood comfort food favorite.
Get the recipe here.
15. Asparagus, Tomato, and Feta Salad
With all the rich dishes on the table, it's nice to have a refreshing bite in between. Plus, this one comes with cheese!
Add this refreshing asparagus salad recipe to the table this Thanksgiving.
16. Roasted Green Beans with Lemon Vinaigrette and Herbed Breadcrumbs
Don't forget the green beans! No Thanksgiving would be complete without them. Topped with a citrus lemon vinaigrette -this take on the green been casserole is anything but boring.
Get the recipe here.