The grill is an amazing cooking utensil that creates smoky masterpieces of heavenly taste. If you want to keep your kitchen cool in the summertime, taking the cooking outside is the best way to preserve that air conditioning. Most recipes are easily translated to the grill, but if you feel stumped, we're here to help you expand. With that being said, it's time to start thinking out of the box and using your grill for more than just brisket and ribs.
Whether you're summer grilling or braving the snowfall in the winter to get that smoky flavor, these grilling recipes will seriously change the way you use your grill. It doesn't matter if you're a gas or charcoal type, here's a list 15 things you should be grilling all year long.
1. Grilled Oysters Rockefeller
Oysters were once something I never tried, or wanted to try, but then I had grilled oysters, and let me just say they were quite wonderful. Looking for something to throw on the grill?
Try something new with this recipe.
2. Grilled Romaine Caesar Salad
Salad is sometimes frowned upon because it can be boring. This recipe will change all of that. Don't be afraid to add some grilled chicken, as well.
3. Grilled Pizza
Forget a fire-brick oven. Give me a fiery grill and I'll serve you an amazing slice of toasty marinara and assorted toppings. Find out how here.
4. Brown Sugar Peaches & Cream Grilled French Toast
Take the mimosas, bellinis,or moscato outside and get some fresh air with this decadent grilled french toast recipe.
5. Grilled Parmesan 'n' Herb Crusted Tomatoes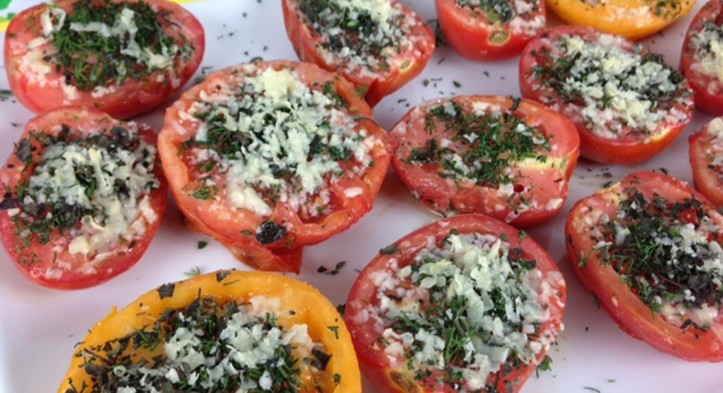 These grilled tomatoes are sweet, herbaceous and light. I like to throw them on a nice burger and chow down.
Get the recipe here and make your own decision on what you want to do with them.
6. Grilled Quesadillas
Instead of pan searing your quesadillas, try compiling the Tex-Mex favorite and throwing it on the grill instead.
Get the recipe here.
7. Grilled Watermelon
Smokey, sweet and full of heat: grilled watermelon is a game changer for the summer and late autumn heat.
Get the recipe here.
8. Strawberry Shortcake Grilled Donuts
Grilled donuts? Yeah, they might be unusual, but they are just oh so good!
Get the recipe here.
9. Grilled Paella
Tex-Mex gets a lot of love in the States, but this Spanish paella is something that should be grilled and appreciated.
Get the recipe and learn how to make it here.
10. Smoky Grapefruit Gin & Tonic
Experience how the flamed grill coaxes out the rich flavor of fruit with this summer cocktail.
Get the recipe here.
11. Grilled Guacamole
Who would ever think that avocados would be something you should be grilling, but since it is, combine this recipe with the quesadillas above!
12. Grilled Candied Bacon
Bacon on the grill usually comes in the form of jalapeño poppers. This recipe ignores the oven approach and embraces the basis of what you should be grilling.
The only change I have would be to add a little maple syrup, because yum!
13. Grilled Polenta Cakes and Shrimp
This play on shrimp and grits is fresh, healthy, and vibrant. It makes for a healthy alternative I'm sure you never thought about grilling.
Get the recipe here.
14. Grilled Peanut Butter and Jelly
This is a seriously nostalgic classic, but the grill flavor enhances the gooey peanut butter and jelly.
Get the recipe here.
15. Grilled Spaghetti and Meatballs
No grill marks here, but you get all the smoky flavor. Who said dinner time can't be grill time?
Get the recipe here!