Peppers are the perfect serving vessel for stuffing all your favorite ingredients. Sure, they impart a great flavor when added to a dish, but there is no denying the wow factor when presented with a gorgeous stuffed pepper. And when it comes to stuffing, the options are endless.
Crave Mexican? Stuff your enchilada in a bell pepper. Want lasagna? Ditch the carbs and load up your cheese and sauce in a pepper. From the classic ground beef to a potato and egg stuffed pepper, you can eat peppers all day.
If you're meal is in need of a makeover, try one of these 15 savory stuffed pepper recipes. You're family will thank you.
1. Classic Stuffed Green Bell Peppers
You can't talk stuffed peppers with talking traditional stuffed peppers. Green bell peppers are hollowed out and stuffed with a beef mixture of ground beef, onion, garlic powder, white rice, and tomato sauce. They're then placed in a casserole dish - or baking dish - and topped with more tomato sauce for a hearty meal.
Get the recipe here.
2. 7-Ingredient Lasagna Stuffed Peppers
Cutting back on carbs, but crave them? Go lasagna, stuffed peppers that is. Lasagna stuffed peppers have the flavor you want minus all the gluten. Requiring only seven ingredients, these Lasagana Stuffed Peppers are also easier to make than the Italian dish. They come packed with gooey cheese, Italian seasoning, marinara sauce, and ground beef. Tonight, everyone gets their own lasagna for dinner.
Vegetarian? Leave out the meat. Vegan? Opt for vegan cheese instead. This way, it's a win win for everyone.
3. Ground Turkey Sweet Potato Stuffed Peppers
Need a little dinner inspiration? Why not try these Ground Turkey Sweet Potato Stuffed Peppers. With a homemade tomato sauce, ground turkey, sweet potatoes, and sprinkled feta stuffed inside a bell pepper you'll have all the protein, veggies, and flavor you crave.
Going Paleo? Omit the cheese and you still have a savory, satisfying meal.
4. Mexican Slow Cooker Stuffed Peppers
Enchiladas are delicious, but they require a bit of work. Take the work out of the equation with this Mexican Slow Cooker Stuffed Pepper recipe. It has all the flavor notes you crave, minus all the hassle.
Stuff your peppers with your rice of choice, lean ground beef or turkey, black beans, corn, shredded cheese, enchilada sauce, and seasoning. Then pop those bad boys into the slow cooker on low for six hours and come evening time, dinner is served!
Don't forget to top with avocado and sour cream for the full effect.
5. Mediterranean Quinoa Stuffed Peppers
Tired of stuffing peppers with rice? Opt for quinoa. While there are endless options for a quinoa stuffing, you can't go wrong with this Mediterranean Quinoa Stuffed Pepper recipe.
These vegetarian peppers are packed full of protein and flavor. Quinoa, lentils, and spinach are the powerhouse while fire-roasted tomatoes, a handle of various herbs, and feta cheese seal the deal.
6. Vegan Stuffed Peppers with Jalapeño Cream Sauce
Who knew vegan could taste so good? These Vegan Stuffed Peppers with Jalapeño Cream Sauce have a flavorful filling combo of black beans, quinoa, tomatoes, and corn. And the creamy, spicy jalapeño sauce topping is like icing on the cake.
7. Red Peppers Stuffed with Confetti Guacamole
It's hard not to eat an entire bag of tortilla chips when guacamole is on the table. Luckily, with this Red Peppers Stuffed with Confetti Guacamole recipe, you can have all the creamy guac you want without eating all the chips.
The recipe calls for traditional guacamole ingredients of avocado, lime, and jalapeño, but then adds a vegetable inspired confetti twist. Kale, zucchini, sweet bell pepper, and chickpeas are added to the mixture for a crowd pleasing healthy treat.
8. Broccoli Rice Stuffed Peppers
These vegetarian Cheesy Broccoli Rice Stuffed Peppers are comfort food at its finest. Fresh broccoli smothered in cheese on top of rice all stuffed into a bell pepper is the right amount of health and comfort when it comes to a cold day.
9. Spinach Artichoke Stuffed Peppers
If you find it hard to pass up a good spinach artichoke dip, then you won't be able to resist these Spinach Artichoke Stuffed Peppers. Bell peppers are the ideal serving vessel for this vegetarian dip of frozen spinach, artichoke hearts, Greek yogurt, three cloves garlic, melted Italian cheese, and protein packed quinoa. Next time you have a dinner party, impress guests with these stuffed peppers.
10. Feta Stuffed Red Bell Pepper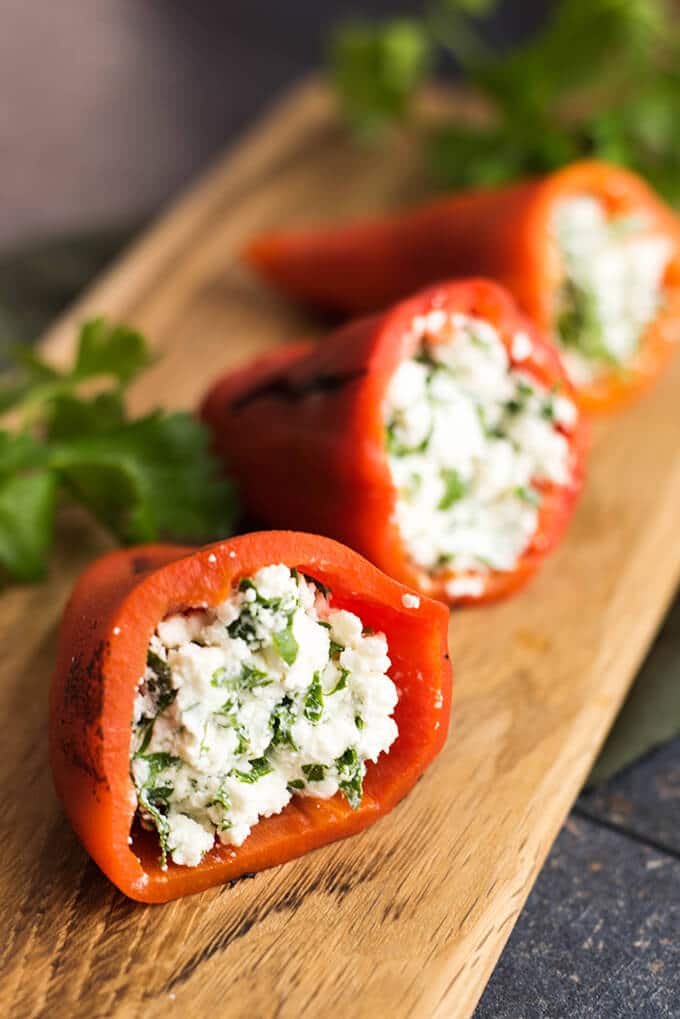 Whether you're entertaining guests or need an afternoon pick me up, these Feta Stuffed Red Bell Peppers are a must. Crumbly feta, creamy Greek yogurt, fresh parsley, mashed garlic, and a hint of lemon all stuffed inside roasted mini red bell peppers, yum!
11. Bacon-Wrapped Cheesy Stuffed Jalapeños
Of course, there's other peppers you can stuff besides bell peppers. Like jalapeños! Adding a twist to the classic jalapeño popper, these are bacon wrapped. A mixture of cream and cheddar cheese is stuffed inside the jalapeños, then wrapped in a strip of bacon and pierced with a toothpick. The spicy, creamy jalapeños are then baked until the bacon is crisp.
Before you stuff the jalapeños, don't forget to remove the seeds and membranes! Otherwise they may be more spicy than you like.
Get the recipe here.
12. Potato and Egg Stuffed Peppers
What better way to bake your morning eggs than inside a pepper?! This Potato and Egg Stuffed Pepper recipe has it all. Fried potatoes are stuffed inside tender baked bell peppers and then topped with an egg, mozzarella, and parsley. The peppers are then put back into the oven to bake until the eggs are set.
13. Chorizo and Black Bean Stuffed Poblano Peppers
Breakfast, lunch, or dinner, these Chorizo and Black Bean Stuffed Poblanos are satisfying any time of day. Spicy chorizo cooked with fragrant garlic and onions, hearty black beans, corn, cheese of choice, and fresh cilantro all packed inside poblanos.
They are then topped with your favorite Mexican toppings for a ridiculously flavorful stuffed pepper.
14. Cajun Shrimp Stuffed Poblanos
If you like spice and spicy, you'll love Cajun Shrimp Stuffed Poblanos. A mixture of creamy goat cheese, Manchego cheese, succulent shrimp, cajun spices, and your favorite hot sauce make this Mexican-Cajun stuffed pepper a must have when it comes to poblano peppers.
15. Lightened Up Salsa Verde Chicken Stuffed Poblano
This is the pepper that has it all, and then some. Seasoned chicken, brown rice, shredded pepper jack, salsa verde, and homemade avocado corn salsa gives these poblanos some flair and flavor that will have you turning against a classic cheese stuffed poblano.
Get the recipe here.
Related Video