Soup swaps are a comforting way to throw a get-together smack dab in the middle of the winter. While sunshine may be limited in the sluggish days of February, there is never too much soup to go around. Have you ever been to a soup swap? It's a simple concept: you bring a big-batch soup and containers to collect your friends' soups. You take 'em home and have a warm, filling dinner for days to come.
We're here to help you have the best possible soup swap! These 13 recipes will guarantee that you'll be the talk of the party.
1. Roasted Tomato Basil Soup
This roasted tomato basil soup is a small twist on a classic recipe that works wonders any time of year. Add some grilled cheese croutons and you'll never use a different recipe again.
Find the recipe here.
2. Leek, Onion, and Potato Soup
You can serve it creamy or keep the potatoes cubed. Either way, the soup is an amazing French classic.
If you've never cooked with leeks before, don't fret! Find the recipe here.
3. Cajun Chicken Sausage Gumbo
Everybody loves gumbo! Use chicken and sausage instead of seafood if you want it to carry better and last longer for your soup swap friends.
Find the recipe here.
4. Chicken Noodle Soup
Chicken noodle soup is a certified classic, and the addition of corn to this recipe gives it a surprisingly delicious twist.
This soup needs no introduction and no ending. Find the recipe here.
5. Clam Chowder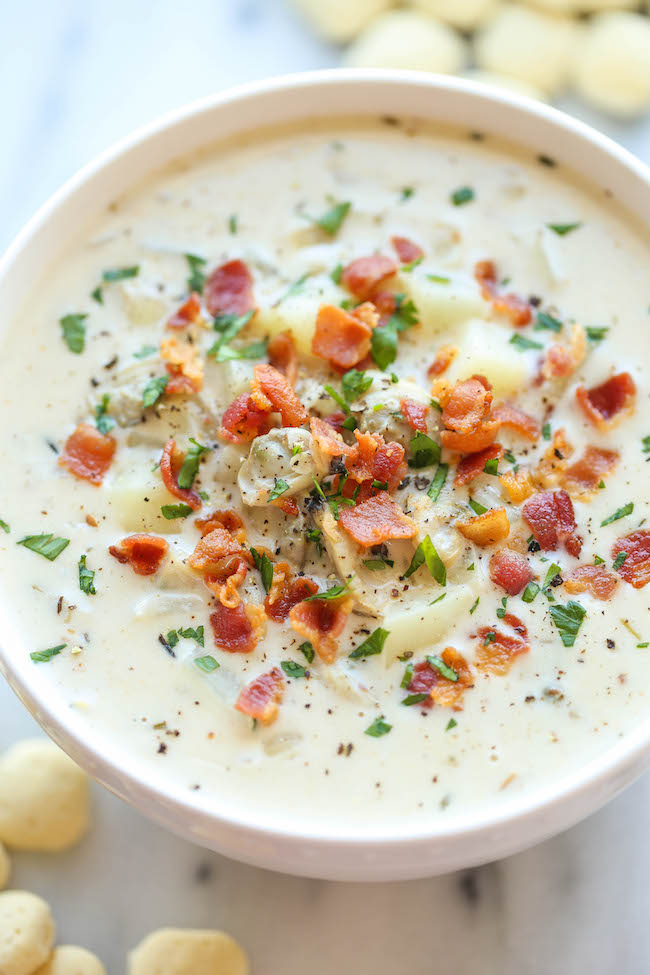 I was never a believer in clam chowder until I spent some time on the East Coast and found a new love for the New England classic.
Creamy, filling, and rich, this is a decadent bright spot to winter days. Find the recipe here.
6. Beef and Barley
This recipe is hearty and full of flavor, but make sure the beef is tender so you don't become the joke of the party.
This is also the perfect pick-me-up if you're feeling under the weather. Find the recipe here.
7. Vegetarian Minestrone
The classic of Italian origin packs a lot of flavor and is generally healthy. It's also a great alternative to bring if you're throwing a soup swap where vegetarians will be ready and willing participants.
Find the recipe here.
8. Baked Potato Soup
Chunky, cheesy, and salty. This soup embodies any and everything a good soup needs.
Find the bacon-filled recipe here.
9. Roasted Butternut Squash
A subtle soup that gets the job done. Add a small dash of cream to the final bowl and watch your friends swoon over how rich and creamy this healthy soup is.
Find the recipe here.
10. Broccoli Florentine Bisque
Loaded with spinach and broccoli, this soup is not only healthy, but very filling.
Find the beautifully green recipe here.
11. Pozole
Pozole is a traditional Mexican soup packed with hominy. You can exchange the beef for any protein you want, but chicken is the usual go-to.
Find the recipe here.
12. Broccoli Cheese Soup
One of my favorite side dishes as a kid was broccoli rice casserole. Try this soup without the rice and you wont be disappointed.
Find the recipe here.
13. Chicken Tortilla
One of my all time favorite soups. Be sure to keep the tortilla strips to the side before serving. Alternatively, you can package them in neat bundles and tie them to the jars before your guests leave your party!
Find the recipe here.