The six states of New England are simply teeming with Thanksgiving lore, and it's no surprise why. We don't want to give you too much of a history lesson, but the origins of what we now call Thanksgiving are rooted, in fact, in the very foundation of the region. Lesson over. Now let's get to the good part: New England Thanksgiving food.
That being said, one could argue that New Englanders have had the most time to perfect their recipes. Thus, the following list is perhaps the best tasting assortment of Turkey Day foods out there. We'll let you be the judge of that, though. Take a note from our northeast neighbors and try adding a couple of the following dishes to your own Thanksgiving repertoire.
1. Kale Salad with Cranberry Vinaigrette
Cranberries are harvested in the fall, and southeastern Massachusetts alone is home to over 14,000 acres of cranberry bogs. Tap into something local and seasonal by making topping some kale with homemade cranberry vinaigrette.
Get the recipe here.
2. Garlic Roasted Carrots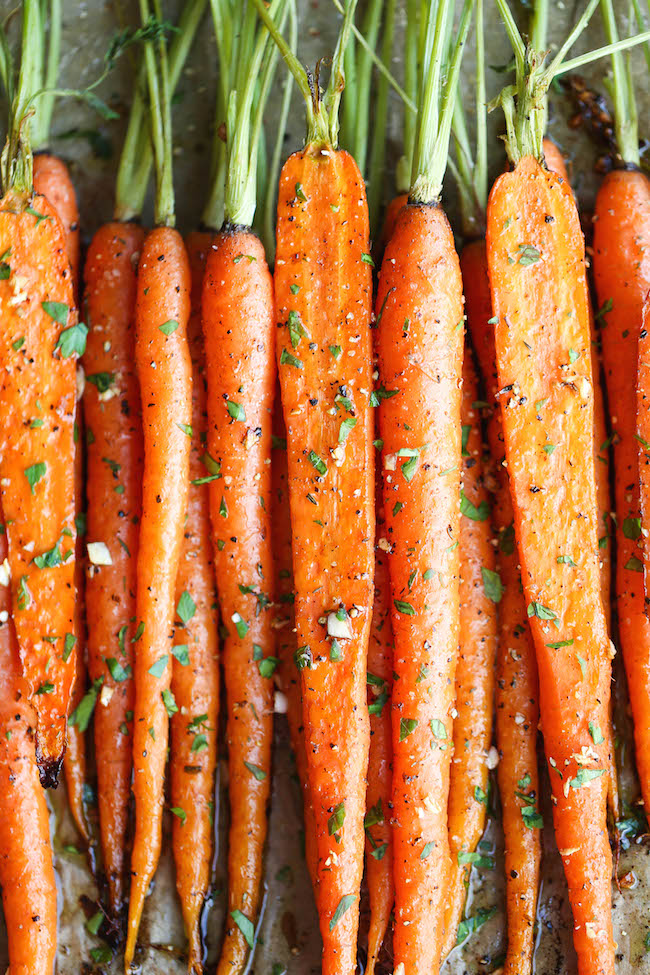 No, none of the states that make up New England are huge producers of carrots. You better bet that New Englanders still enjoy a roasted carrot or two, though. Thus, we suggest trying this roasted carrots recipe. The featured photo almost had us licking the screen.
Get the recipe here.
3. Brussels Sprouts with Pancetta, Cranberries, and Pine Nuts
Plenty of New England homes will serve Brussels sprouts and bacon on Thanksgiving. Brussels sprouts and standard bacon is played out, though. We suggest trying something a little more exotic by substituting regular old bacon with some pancetta.
You'll rightly crave multiples servings of this tantalizing combination of sweet, salty, and nutty. One may say that you'll even go nuts for it...
Get the recipe here.
4. Ginger Orange Cranberry Sauce
Cranberries, oh cranberries, how we yearn to use you in quite simply everything! Steer clear of the canned cranberry and try this homemade cranberry sauce instead. With ginger and orange added to the mix, it's certain to be refreshingly crisp and sweet.
Get the recipe here.
5. Shrimp Stuffed Portobello Mushrooms
When you think of New England cuisine, you most likely think of fresh seafood. Stuff some 'shrooms with shrimp and breadcrumbs in order to add a pleasingly rich taste of the ocean to your Thanksgiving menu.
Get the recipe here.
6. Stovetop Whipped Sweet Potatoes with Maple Pecan Drizzle
Maple syrup and New England go together like, well, maple syrup and pancakes. You can't get away from incorporating maple into Thanksgiving as a New Englander unless you try pretty darn hard to.
Tapping into the natural sweetness of maple and combining it with the nutritional powerhouse that is a sweet potato will add that much needed side of "wow, yum" to your holiday meal.
Get the recipe here.
7. Baked Stuffed Clams
You want more seafood included in your Thanksgiving table spread? Okay, we'll oblige you.
We can almost guarantee these clams, stuffed and baked to perfection, will disappear from the table quicker than you can say, "Gobble gobble."
Get the recipe here.
8. Maple Orange Roast Turkey
Maple syrup (told you you'd keep seeing it). Turkey. Duck fat. White wine. Need we say more? (Yes, the recipe page says that this is a recipe for Christmas. In this case, we suggest going against the grain. You only live once, after all.)
Get the recipe here.
9. Corn Pudding
You've had cornbread, right? This generations-old corn pudding recipe is cornbread on sweetened steroids. Our suggestion? Clean up your dinner plate by mopping up the remnants with a hunk or two of this indulgent corn-based treat.
Get the recipe here.
10. Indian Pudding
Indian pudding, a descendant of the whimsical-sounding hasty pudding, undeniably looks like sludge. This incredible-tasting dessert is comprised of milk, butter, cornmeal, flour, salt, molasses, eggs, sugar, cinnamon, and nutmeg.
It's also (properly) served with vanilla ice cream. If you're interested in wowing your guests come dessert time this Thanksgiving, New England's traditional, delightful mush is for you.
Get the recipe here.
11. New England Apple Cheddar Galette
Elise Bauer of Simply Recipes includes the following in her pre-recipe write up for this ridiculously unique creation:
"An apple pie without the cheese is like a kiss without the squeeze."
We have no idea what that means but we're so, so excited to find out. If you're looking for us on the eve of Thanksgiving this year, we'll be sampling Vermont cheddars to put on our apple pie.
Get the recipe here.
12. Cape Cod Blueberry Pie
This recipe has been around since the eighteenth century. Yeah, it's that good. Give it a go, and don't hesitate to use wild blueberries and top it with a generous blob of cream to make it "settler-style."
Get the recipe here.