Grab the chicken and start making the dumpling dough, it's chicken and dumpling time! A southern dish at its heart, chicken, and dumplings are always a welcome addition at the family dinner table. In fact, did you know that chicken and dumplings have been around since the 1800's? You can follow the entire history here.
While you learn about the origin of chicken and dumplings, why not pick out your favorite chicken and dumpling recipe from our list?
1. Slow Cooker Chicken and Dumplings
Refrigerated biscuits are the star of this quick to put together dish. In a slow cooker add cream of celery soup, cream of chicken soup, parsley, poultry seasoning, black pepper, chicken breasts, chicken broth, and frozen vegetables. Cook then about 1 hour before the soup is finished, top with pieces of the biscuit dough.
2. Chicken and Dumplings Casserole
This cozy casserole is a twist on the real thing. Almost like a pot pie, shredded chicken, cream of chicken soup and chicken broth are topped with a dumpling mixture then baked in the oven.
3. One-Pot Chicken and Dumplings
One Dutch oven or large pot is all you need for this easy chicken recipe. Whip up the tender and fluffy dumplings by mixing together flour, baking powder, salt, and fresh parsley then drop the mixture in the chicken stock to cook.
4. Chicken and Dill Dumplings
Dill is such a fresh herb to add to chicken soup. Simply sprinkle a hearty handful into the dumpling mixture and sprinkle more on top when serving.
5. Skillet Chicken and Dumplings
It doesn't get any better than this. Grab your favorite cast-iron pan and whip up this comfort dish in an hour or less.
6. Turkey and Dumplings
While it's not a traditional chicken and dumplings soup recipe, this Turkey and Dumplings recipe uses leftover turkey instead of chicken breasts. Along with turkey, onions, carrots, celery ribs, frozen peas, and fresh thyme bring this soup over the top.
7. Instant Pot Chicken and Dumplings
If you have never owned an instant pot or pressure cooker, we highly recommend it, especially for this chicken dish.
8. Chicken and Slicks
In some regions of the United States, chicken and dumplings are also called chicken and slicks. Thick and chewy, these long noodle dumplings swim in rich chicken broth and pieces of tender chicken.
9. Copy-Cat Cracker Barrel Chicken and Dumplings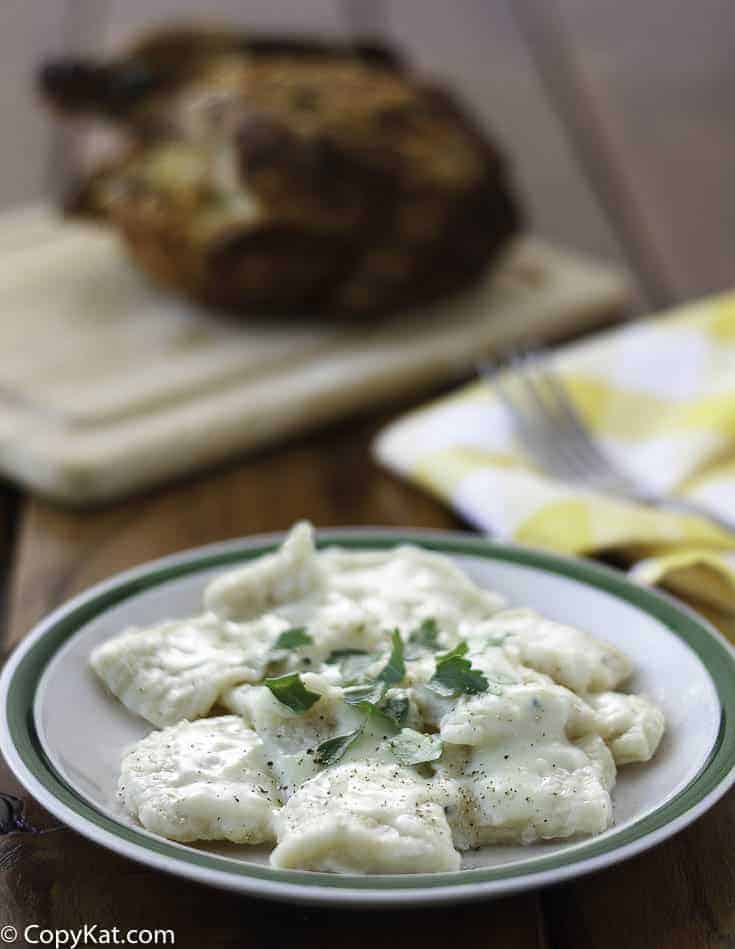 If there's one recipe you have to add to your copycat recipe book, it's this one. Comfort food at its finest, this Southern dumpling recipe is made to be eaten with a fork rather than a spoon. Blogger CopyKat suggests shredding a rotisserie chicken and topping these dumplings to make it a complete meal.
10. 30-Minute Chicken and Dumplings
While this comforting dish tastes like you spend all day at the stove, this quick version of Chicken and Dumplings takes only 30 minutes to prepare. The key to preparing this chicken and dumplings recipe is mixing up a flour mixture slurry to thicken the soup. You also want to prepare your drop dumplings to be small, making it faster to cook.
11. Easy Chicken and Dumplings for Two
Homemade chicken broth shines in this instant-pot recipe. With a total time of 45 minutes, this two-person meal is easy to put together on any weeknight. What makes this old-fashioned chicken and dumplings recipe so different is the use of chicken thighs and the addition of cornmeal in the dumpling biscuit dough.
12. Slow Cooker Lemon Chicken and Dumpling Soup
Chicken dinners just got zestier! Featuring boneless skinless chicken breasts, this chicken recipe is cooked up in the slow cooker along with gnocchi, vegetable broth, and lemon juice.