If delicious side dishes were a sports team, potato salad would probably be the captain. It's not that potato salad is incredibly laborious to create, it's just that a great blend of diced 'taters and the proper accouterments can be a gathering game-changer that guests can easily serve themselves. And, before you ask, no, we're not talking about store-bought potato salads here no matter how good your cousin says Albertson's pre-made is.
We're talking about the following 11 homemade big-batch potato salad recipes, each unique in its own way.
1. Texas Style New Potato Salad
Bacon, grilled onions, and red potatoes are the big players in this recipe's lineup. If you're from Texas, this is supposedly something you're familiar with. Stay tuned to see another cook's take on Texas-style potato salad further along on this list.
Find the recipe here.
2. Grandma's Potato Salad
Over the river and through the woods to Grandmother's house we go for potato salad. If you're looking for a lighter salad, Grandma's rendition isn't for you; it's teeming with heavy ingredients like Miracle Whip, whipping cream, and hard-boiled eggs.
Before you head over that river, you better make sure to fast for at least a few hours. Find the recipe here.
3. Potato Salad Bites
Remember how we mentioned game-changers in the intro? Potato salad served potato skin-style is exactly what we were talking about.
Easily socialize at the party with a Potato Salad Bite in one hand and an ice cold cruiser in your other. Find the recipe here.
4. Loaded Baked Potato Salad
Sour cream, mayonnaise, shredded cheddar, and bacon are listed on this hefty potato salad's ingredients list, making it a formidably "loaded" dish.
If you're not hungry, please look elsewhere. Find the recipe here.
5. Texas Potato Salad
As it turns out, there are indeed multiple potato salads claiming to be the potato salad of the Lone Star State. Jalapeños, red wine vinegar, and red wine may have you reaching for your antacids, but the sweetness of cane sugar is just enough to even this salad's acidity out quite pleasantly.
If you feel like both of our Texas-style potato salad recipes are wrong and want to set the record straight, let us know! We'd love to hear from you. Get the recipe here.
6. Buffalo Ranch Grilled Potato Salad
It doesn't matter who you are nor where you're from; everyone loves a spicy hot sauce mixed with ranch. You've already got the grill on, why not fire up some Buffalo Ranch Grilled Potato Salad and make everyone's day a bit more delicious?
Find the recipe here.
7. Avocado and Egg Potato Salad
Sure, the American demand for avocado may soon be too large for the world's avocado farmers to keep up with, but we all still love and buy them weekly.
Don't let the imminent demise of the avocado (read: unavoidable price increase) keep you away from trying out this deliciously unique Avocado and Egg Potato Salad. You only live once, you know.
Find the recipe here.
8. Shaved Brussels Sprout and Sweet Potato Salad
Healthy eaters rejoice! This recipe is made of sweet potatoes, Brussels sprouts, pecans, olive oil, and a little balsamic. It's simply teeming with nutrition, even if you do add the optional Gouda (and you should, it's the holiday season).
Find the recipe here.
9. Purple Potato Salad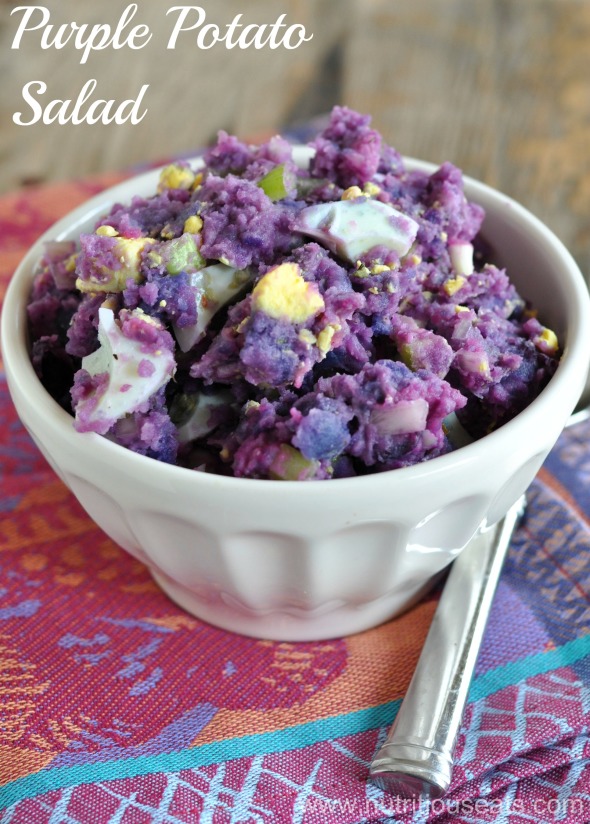 Have you heard that the more colorful (literally) your plate is, the healthier you're eating? No, this doesn't apply to a plate packed with gummy bears, Skittles, and Fruity Pebbles.
It may apply to a plate with some greens, a grilled chicken breast lightly coated in your favorite sauce, and a side of Purple Potato Salad, though.
Find the recipe here.
10. Thai Sweet Potato Quinoa
When it comes to Thai food, some people love it. Other people are "meh" about it, as they say. If you haven't experienced traditional Thai cuisine, this Thai Sweet Potato Quinoa may be a worthy foray into the field of all that is fiery.
It's no kua kling, but it will certainly give you a feel of how food from Thailand tends to taste.
Find the recipe here.
11. Mexican Potato Salad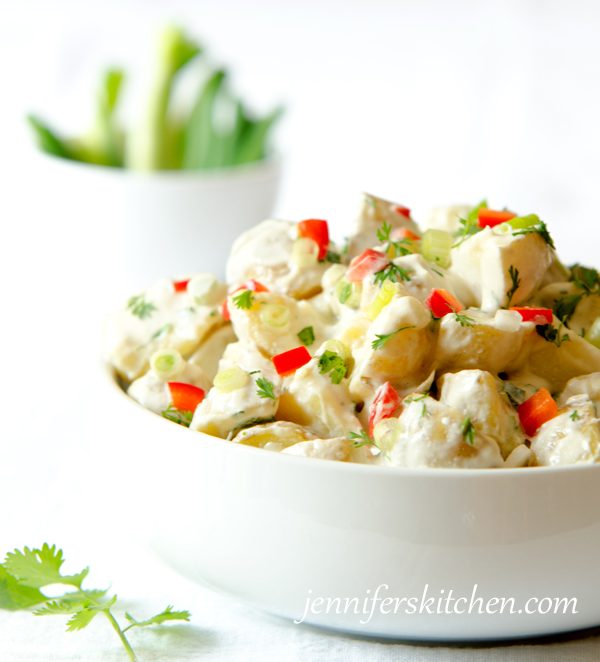 Not sure if you want to travel all the way to Thailand? Head to Mexico instead! Get yourself set up with all of the right toppings to make some guacamole, make this Mexican Potato Salad, and pack the fridge with Pacificos if you're looking for a holiday party influenced by our neighbors to the south.
Find the recipe here.