Good ol' white bread! The bottom line is that it's a classic favorite dating back to childhood and invokes some serious nostalgia. From clutch sandwiches to a makeshift hot dog bun, white bread has been there through the thick and the thin. I'm here to help you get a little more out your white bread.
Enjoy these 10 uses for white bread besides making that sandwich in your sometimes sad desk lunch.
1. White Chocolate Berry Bread Pudding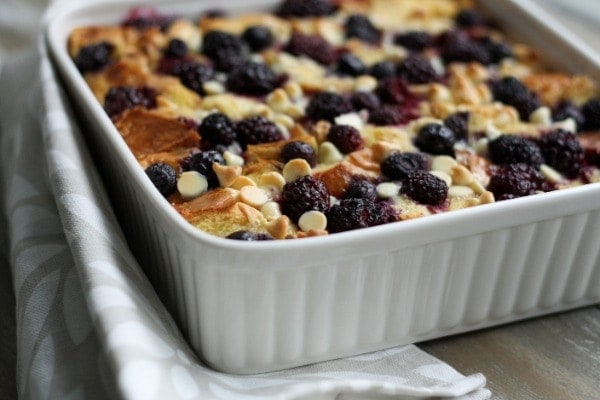 There's a reason that the Chopped dessert round normally features bread pudding as a go-to! The dish is so simple and has many variations, from sweet to savory.
Get the recipe here.
2. Homemade Croutons
Add some flare to that huge salad you make for weekday lunches. The croutons will take you and your food to the next level.
The longer they sit out, the better they become! Get the recipe here.
3. French Toast
An old time breakfast favorite, French toast is a staple in this thing we call life. Turn that white bread into a dish that can hold its own and fill your stomach.
Get the perfect brunch recipe here.
4. Gruyère White Cheddar Cheese and Kale Strata
Remember those variations of bread pudding I mentioned earlier? Well, this is a strata which is basically a savory bread pudding. Enjoy its greatness.
Get the recipe here.
5. Caprese Chicken Panzanella

Bread salad? Yes, you read that right. What can go wrong with a Caprese salad?
This is especially perfect for using up stale white bread as the crunchy texture adds depth to the dish. Get the recipe here.
6. Aged Pilsner and Cheddar Fondue
This fondue is amazing! The only place that has something to rival this is the Melting Pot. If you want the at-home equivalent, then you have come to the right place.
Get the cheesy, dreamy recipe here.
7. Salmon Crostini
Bagels and lox mixed with a little imagination will bring you to this amazing place where white bread really shines.
Get the recipe here.
8. Avocado Toast
Welcome to the craze that's taking over the nation. Put some healthiness in your breakfast and get a full protein start to your day.
Get the recipe here.
9. French Bread Sauce
You read that right. If you never thought about making a sauce out of bread, you're not alone. However, could you imagine the possibilities?
Get the recipe here.
10. Lobster Roll Cones
Put a little finesse in that white bread with these lobster rolls with a bit of a twist. You'll love it!
Get the recipe here.