Every now and then, a craving strikes for junk food. But not just any junk food will do. Only the sugary, salty, fat-filled junk food items that bring back nostalgic memories of childhood suffice that craving. I'm talking Hot Pockets, Pop Tarts, Twinkies, Doritos, and more.
While it may be all too tempting to give in to that craving and purchase a preservative filled junk food, you can skip some of the guilt and make a copycat recipe of your favorite guilty pleasure. So whether that craving strikes, or you want to share those memories with your kids (or revisit them yourself), ditch the store-bought and go with a homemade recipe instead.
From sweet Pop Tarts to savory Mac and cheese, here are 10 recipes that are better made from scratch. There's just something about homemade that you can't beat.
1. Ham and Cheese Hot Pockets
Have a guilty pleasure of eating Hot Pockets? You're not alone. This frozen item is a staple for many homes, a staple that can be made better when it's homemade. With this Ham and Cheese Pockets recipe you can ditch some of the guilt you get buying it frozen.
Rolling out homemade dough and cutting into individual sizes, layer ham and slices of cheese, then fold and crimp the sides to seal in the goodness. Once they bake to a golden brown and come out piping hot, you'll be able to savor one bite at a time. Be sure to also use an egg wash. This is how those pockets get their beautiful golden brown color and flaky texture.
2. Brown Sugar Peach Puff Pastry Pop Tarts
Store bought Pop Tarts are a sugar bomb filled with preservatives. If you crave their sweet flavor, but don't want all the junk, try these Brown Sugar Puff Pastry Pop Tarts.
Flaky puff pastry is filled with fresh sweet peaches, brown sugar, and vanilla, then baked to a golden brown. And to top it off, a homemade glaze of butter, brown sugar, vanilla, cinnamon, and salt. One bite and you'll have a hard time taking store bought over freshly homemade.
3. 1-Ingredient Fruit Roll Ups
The one ingredient Fruit Roll-Ups seemed to lack was fruit. Fruit flavoring, juice from concentrate, corn syrup, and of course those weird color numbered ingredients were all there. And while they are certainly tasty, they may not be the healthiest.
Enter the 1-Ingredient Fruit Roll-Up. The taste you want with the ingredients you feel good about, all this recipe requires is fresh mango. The process itself is as simple as the ingredients. Purée the mango in a food processor, spread smoothly across a baking pan, and then bake. The roll ups are then rolled with wax paper and sliced.
If you're making a big batch that you want to preserve - minus preservatives - then seal these fruity treats in a vacuum sealer like the FoodSaver 4440. With the push of a button, you can extend the life of your roll ups, keeping them fresh and letting you snack whenever you feel like it.
4. Homemade Oreo Cookies
A stack of Oreos and a glass of milk brings back nostalgic memories. Prying open the two chocolate cookies and licking out the creamy filling was next best to dunking the entire thing in a cold, tall glass of milk.
You can relive these great memories and share them with your own family with this Homemade Oreo Cookies recipe. The cookies are made out of cocoa while the filling is basically powdered sugar and butter. Once your done, pour a glass of milk and let the dunking lessons begin.
5. Ding Dongs
The Hostess family is chalk full of sweet treats that send you back to childhood. One of those gooey, chocolatey treats is the Ding Dong. Moist chocolate cake topped with frosting on the outside and a cream filling on the inside, it's hard to say no to these cupcakes - even as an adult.
Luckily, if your Ding Dong craving strikes you can ditch the preservatives and checkout counter with this Ding Dong recipe. Chocolate cupcakes are baked from scratch out of semi-sweet chocolate chips plus cocoa powder, then stuffed with a gooey marshmallow filling. Of course, it wouldn't be complete without the topping. Opting for a silky chocolate ganache and signature swirl, these Ding Dongs give Hostess a run for their money.
6. Twinkies
While we're on the subject of Hostess, Twinkies no doubt have their own fan base following. And like the first Twinkies to hit the market, you can make these suckers fresh. In this Homemade Twinkies recipe the fluffly cakes are oozing with a whipped cream frosting center. And in true Twinkies fashion, the cakes get their filling by poking three holes in the bottom and injecting with the sweet, sugary cream.
You can even get crazy with it and make your own homemade flavored whipped creams. Imagine eating a maple, bourbon, or even rose flavored Twinkies. Now that's gourmet.
When making the batter for the cake, you may find a hand mixer or KitchenAid Stand Mixer helpful. Using room temperature butter, it will whip up the batter to the perfect consistency making your Twinkies even fluffier.
7. Homemade Goldfish Crackers
Ah, Goldfish. The snack that smiles back. There was a time in my life when I could eat an entire bag in one sitting - and probably still could. The cheese mixed with salt in a fun cracker form is always a delight to munch on.
While I've changed my ways, there are still weak moments. That's why I'm elated to see a homemade version of Pepperidge Farm's finest. Homemade Goldfish Crackers are made from whole ingredients. Flour, sharp cheddar cheese, water, butter, and salt. That's it!
Want even healtheir crackers? Sub in whole wheat or chickpea flower.
8. Three Flavors of Homemade Vegan Doritos
Should I be surprised that there are actually homemade Doritos recipes? Probably not, but somehow I still am. Taking a coated chip junk food classic and turning it into a somewhat healthier, vegan option, Fork & Beans gives us Three Flavors of Homemade Vegan Doritos.
What's the secret? Nutritional yeast and spices. Taking various spices along with nutritional yeast, a chip seasoning is made to mimic your favorite Doritos flavor. Depending upon which one that is, you then take the Cool Ranch, Nacho Cheese, or Spicy Taco seasoning, sprinkle it on corn tortilla triangles, and bake until crisp.
While you munch on your homemade Doritos, you and your pals can continue the debate about which flavor is best.
9. Homemade Bagel Man Bites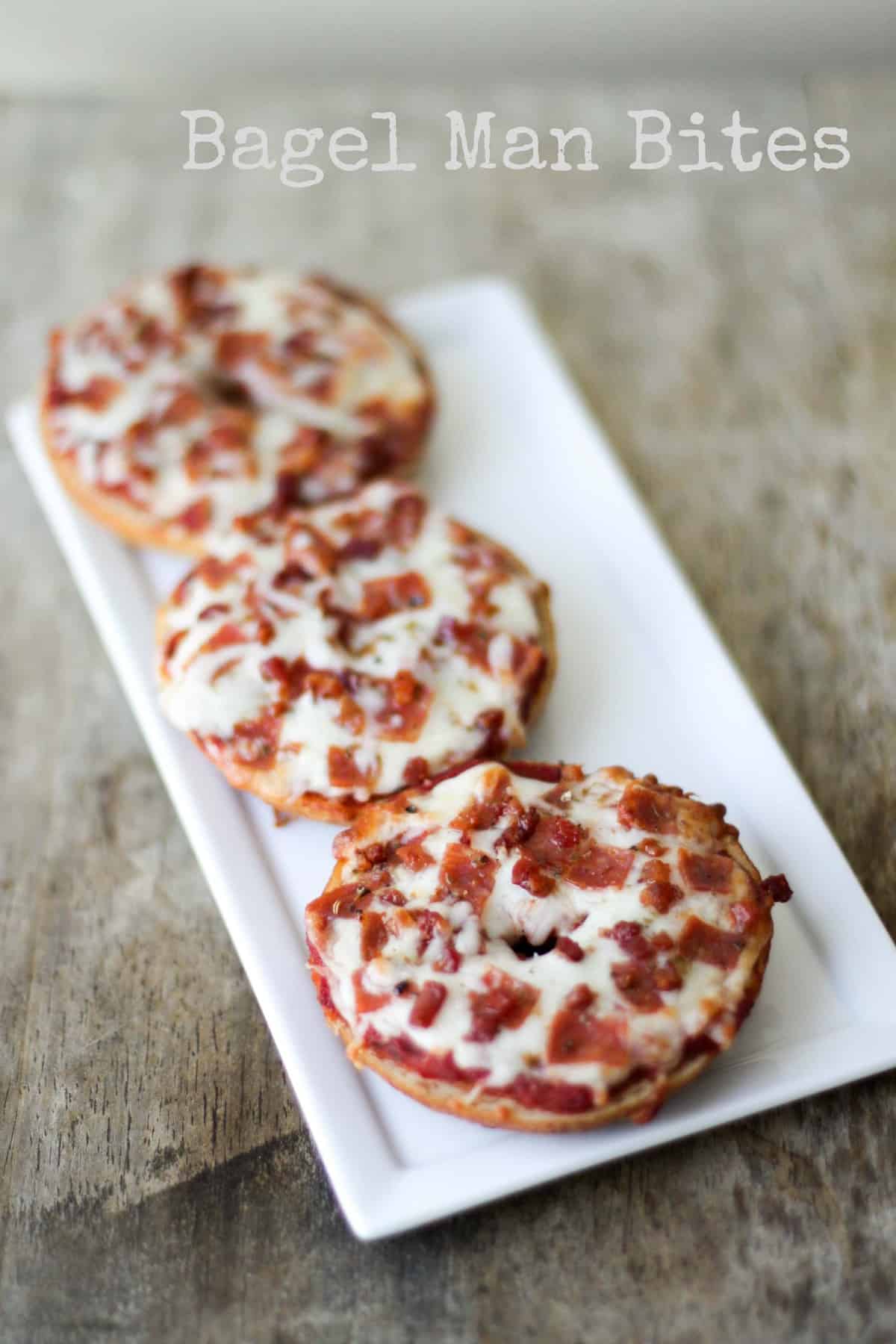 Of all the at home junk food recreations, Homemade Bagel Bites my be the easiest. Like the 90s commercial, with this recipe "you can eat pizza anytime", and now that you're an adult, you're allowed to. The only problem with the frozen version is it takes a lot of those mini bites to fill you up.
By using normal sized bagels, Homemade Bagel Bites tastes like nostalgia in a satisfying portion, "Man size." Using a fresh homemade bagel recipe, the bagels are topped with pizza sauce, mozzarella cheese, pepperoni, and pancetta.
If that sounds a bit too fresh for your liking, you can freeze these suckers for up to a month. So come your bagel bites craving, simply pop it in the oven and your frozen meal is ready.
10. Kraft Mac and Cheese Copycat
There is something insanely comforting about a box of Kraft Mac & Cheese. Unfortunately, it's not always the healthiest. If you're looking for that comforting gooey, cheesy bowl in a healthier form, then opt for this homemade Mac and Cheese recipe. Made with elbow macaroni pasta, shredded cheddar cheese, Velveeta, and milk, there's no need for a dehydrated packet to flavor up this bowl.
And if you're looking for a little kick, then add in paprika. It spices it up a bit, giving the original junk food a run for its money.
Watch: How to Eat Like a Real Texan