When it comes to cuisine in Pennsylvania, it seems that there are just two factions. There are those who support Wawa, and those who (wrongly) support Sheetz. Both are food-serving mini-marts where you can usually get gas for your car. Both offer a deli-like menu, with hoagies and coffee to fill up for whatever journey you have ahead. Philly.com posted a poll that shows Sheetz as the true victor, but true PA-natives know otherwise. When it comes to convenient, delicious food, Wawa is king.
With that abrupt, confusing introduction to the food of PA out of the way, it's time for the real article to begin. Anyone from Pennsylvania calls the state simply PA (pee-ay), and they've probably visited Hershey Park for the rides and the chocolate at least once. Other than Hershey's chocolaty goodness, Peeps, Tastykakes, and Musselman's Apple Juice are other companies that make their food and drink in the Keystone State.
When it comes to foods that are true, iconic, Pennsylvanians-only items, though, the following list is a great jumping off point. From the delicious pies to our unique beverages to a dish that embodies the snout to tail movement, we'd like to thank William Penn for founding this greatly unique state.
1. Apple Butter and Cottage cheese
As a resident in Pennsylvania, it's not rare to have a coworker who mentions apple butter and cottage cheese, choosing to bring the concoction into the office the day after mentioning it.
It's exactly what it sounds like, and it's been enjoyed by Pennsylvania's Pennsylvania Dutch community for over one hundred years. They call it smearcase, probably because it looks rather smear-y.
2. Birch Beer
Growing up in Pennsylvania is great. You get four seasons, you have access to thriving cities and amazing nature, and you can order a birch beer at the tender age of 11. Or five. Or whenever your parents allow you to. Before you call your state representative and tell them that Pennsylvanians are giving underage kids booze, you should know that birch beer is quite similar to root beer.
It's a non-alcoholic soda that is famously bottled by a group we'll later describe, the Pennsylvania Dutch. While the Pennsylvania Dutch birch beer is brown like root beer, another PA-based brand, Frozen Run Black Bear Mountain Birch Beer, is clear in appearance. What a time to be alive!
3. Cheesesteak
You can't take a trip to Philly and not hear cheesesteaks mentioned at least once. And, while you're there, you'd be remiss not to hit up Pat's and Geno's (they're directly across the street from each other). You can eat what's essentially a hot sub filled with beef and cheese from two of the city's best purveyors of hot, beefy goodness in one afternoon, picking your favorite after you recover from the food coma.
Oh, and be sure to learn your "whizz," "wid," "widdout" repertoire before ordering. Nobody likes an outsider.
4. Lebanon Bologna
Cured meat fans, this one's for you. Lebanon bologna is every meat and cheese lover's dream food; it's a beef sausage that's dried and cured.
It's addicting and tangy, and you probably had it on white bread with cheese for lunch as a schoolkid. Who made it? The Pennsylvania Dutch made it, and it's named after Lebanon County.
5. Pierogies
For one reason or another, all of your friends from PA love the Polish dumpling-like food dubbed the pierogi. Pierogies are made from a thin dough shell and usually filled with a filling of cheese, potatoes, and onion. Yeah, Pennsylvanian's love cheese.
6. Primanti Bros.
The family behind Pittsburgh's infamous Primanti Bros. has been slangin' acclaimed sandwiches since the 1930s.
The diagram speaks for itself, doesn't it? Pick your meat (pastrami is probably your best pick), clear your schedule, and enjoy this monster of a sandwich the next time you're in Pittsburgh.
7. Scrapple
Road trippers who have traveled through PA, stopping at a diner for breakfast, were probably confused when they saw "scrapple" listed next to breakfast sausage and bacon.
Another gift from the Pennsylvania Dutch, scrapple or panhaas (pan rabbit) is the scraps and trimmings of pork mixed with buckwheat flour, corn meal, and spice. You mush it together, pan-fry it, and eat it. Sounds appetizing, right? Try it for yourself. (This recipe uses lean pork, so don't be too scared.)
A recipe can be found here for scrapple.
8. Shoofly Pie
Over time, the earliest German-speaking immigrants in the Keystone State formed a distinct cultural group known as the Pennsylvania Dutch.
Dessert lovers should know that the Pennsylvania Dutch are the geniuses behind a molasses pie known as shoofly pie. At it's gooey core, this is a pie that's packed solely with molasses.
9. Whoopie Pies
The Pennsylvania Dutch know a thing or two about making irresistible sweets. Their other infamous pie, the whoopie pie, is sort of like a French macaron in appearance.
It's made from flour, cocoa, sugar, shortening, baking soda, and, well, we'll let you check the recipe out for yourself. Trust us, though; you'll want to eat more than one.
Now this is how you make a whoopie pie.
10. Yuengling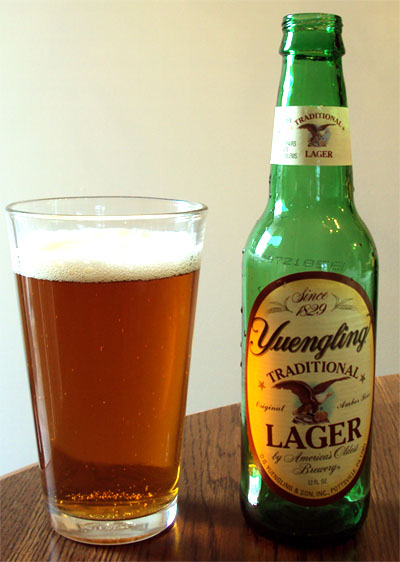 Every Pennsylvanian who has traveled anywhere west of, well, Pennsylvania itself has experienced the sorrow that follows ordering a lager at a bar and having them ask, "What kind?" If you're from PA, a lager is one thing and one thing only: Yuengling.
Founded by a German immigrant named David Jüngling (that's Yuengling to you) in Pottsville, PA back in 1829, Yuengling is widely considered to be America's oldest brewery. They make a variety of beers, but the Traditional Lager is the foundation of our nation's taste for beer. You can quote us on that.