Ho, ho, ho, Merry Hops-Mas! If you want to get your Santa-paws on some of the finest fermented finds this side of the North Pole, you're in luck. We watched them sleep. We know when they're awake. We darn-well know which ones are bad and which ones are good. Believe you us, we know which ones are good.
Sit back, grab a cookie and some milk, and enjoy this list of the best Christmas beers we've found this year.
1. Sierra Nevada Celebration
Any list of seasonal beers that's centered around Christmas needs to have Sierra Nevada's Celebration on it. This IPA will have you dashin', dancin', prancin', and fixin' for another one as soon as it hits your lips.
The 6.8 percent ABV may have you dancing a little, too. We won't judge.
2. Anchor Christmas Ale
Anchor's take on the winter warmer is an ever-changing, always-delicious pour. They use a new recipe every year, and they do annual label updates as well.
It's been around since the 70s, helping it put the "old" in Old Saint Nick.
3. Ommegang Adoration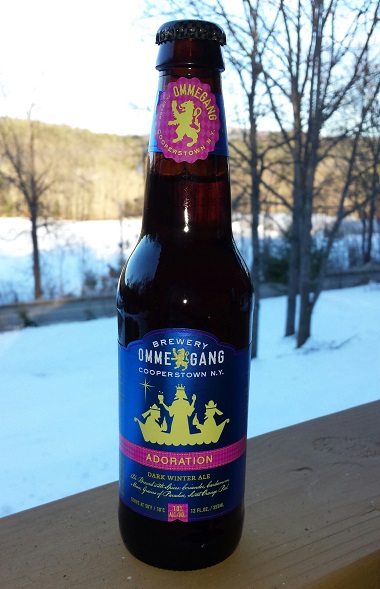 Ommegang? More like oh-ma-gosh, that beer's tasty. Taking a note from traditional Belgian Christmas ales, Adoration includes coriander, grains of paradise, cardamom, and a bit of orange peel.
If you enjoy Belgian strong ales, you'll adore Adoration.
4. Tröegs Mad Elf
This insanely good beer, known lovingly as Mad Elf to most and "oh no" to some, is the reason that most Pennsylvanians don't remember Christmas last year.
At a whopping 11 percent ABV, you'd be surprised at how easily this strong ale goes down. Cherries, honey, and chocolate give it a flavor unlike any other beer on this list. Our suggestion? Find it on draft ... you won't regret it.
5. Great Lakes Christmas Ale
We know you like gingerbread houses. We know you like beer.
Taking a sip of Great Lakes Christmas Ale may, in fact, prove that gingerbread houses can be drinkable. We'll let you be the judge.
6. Upslope Christmas Ale
Hey! Remember that time that we told you about how it may be possible to drink a ginger bread house? If you want another gingerbread house-esque beer, try Boulder, Colorado's Upslope Brewing Company's Christmas Ale.
It has more booze than the Great Lakes Christmas Ale (8.2 percent ABV compared to 7.5 percent), so it will take you approximately one full six pack to go from the nice list to the naughty one. Oh, and try not to go downslope after having a full six pack of these.
7. The Bruery 8 Maids-a-Milking
Have you been waiting for a Christmas stout? Wait no longer, our sandwich-in-a-glass-loving readers.
It's an imperial stout, and we don't know what those maids were a-milking, but it ended up producing a ton of booze (an 11.3 percent ABV, to be exact). After a few of them, you'll probably be much better at singing Christmas moo-sic.
8. Southern Tier Krampus
You missed that movie called Krampus, too? Rats. It looked ... fine. Regardless, Krampus is to Santa what the bad cop is to the good cop. According to some tradition and lore, Krampus comes around Christmas time to steal naughty children and hit them with sticks.
Being an imperial helles lager, Southern Tier's Krampus may steal you and hit you with sticks, too.
9. 3 Floyds Brewing Alpha Klaus
We wish you a merry Christmas and a ... hoppy porter. That's right, this cocoa-rich Christmas porter finds its balance with that often sought-after hoppy finish.
10. Rogue Santa's Private Reserve Ale
Compared to the rest of this beer-fueled nice list, Rogue's Christmas ale is one that's fairly sessionable.
At an ABV of 5.3 percent, Santa's Private Reserve Ale is relatively mild yet still fairly robust for a red ale. If you like a good bitter, toasted taste in your beers, this one's for you.